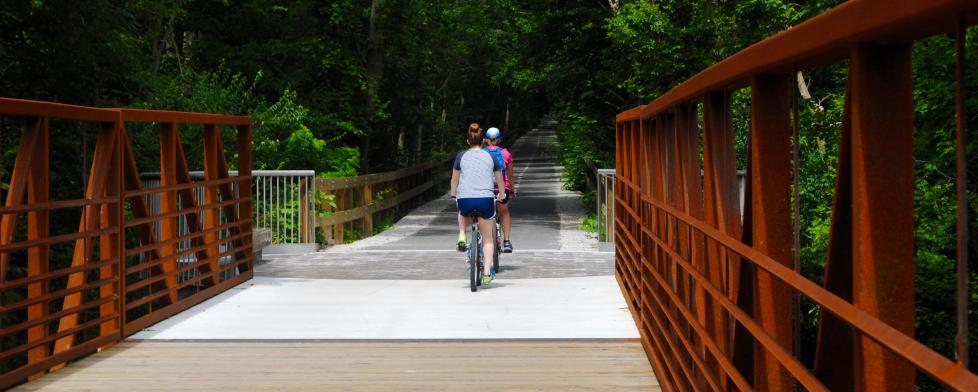 - FOR IMMEDIATE RELEASE -
Contacts:  Josh Duke     Josh@VisitHendricksCounty.com
                  Jeff Smallwood, B&O Trail            jsmallwood@indy.rr.com
DANVILLE, IN (March 10, 2021) – Two rail trails that run through Hendricks County have received funding for extensions to connect to Indianapolis.
The state announced its second round of Next Level Trail Grants last week with the B&O Trail receiving more than $4.5 million and the Vandalia Trail getting more than $1.7 million.
The B&O Trail funding adds 6.43 miles of asphalt to the trail, extending the existing trail both east and west from Brownsburg on both ends and completing an important link with Indianapolis. The western extension will begin at the Tilden trailhead, adding 2.1 miles of paved trail and equestrian-use side path west to County Road 250 and paving an additional 1.9 miles from Maplewood to County Road 50 for a total of four miles in rural Hendricks County.
The eastern extension will run 2.43 miles east from Raceway Road into Marion County where it will connect to a portion of the trail currently under development by the Speedway Trails Association near Girls School Road. The project includes trailhead facilities in Tilden and Maplewood.
"This grant is a game-changer for the B&O Trail," said Jeff Smallwood, spokesman for the trail. "Along with our local matching funds, this grant will support construction of six more miles of paved trail."
The funding for the Vandalia Trail will extend it 2.3 miles from where it currently ends near Township Line Road in Plainfield east to Raceway Road at the border of Hendricks and Marion counties. The project is part of the statewide National Road Heritage Trail and includes a connection to the Ronald Reagan Parkway multi-use path.
For more information about all Next Level Trail Grants, go to www.in.gov/dnr/outdoor/ and click on Grants. For more information about all Hendricks County trails, go to www.VisitHendricksCounty.com.
The Hendricks County Convention and Visitors Bureau, Inc., d/b/a Visit Hendricks County attracts visitors to the county by promoting and developing tourism, which stimulates economic growth and enhances quality of life.  For more information, visit our website at VisitHendricksCounty.com or call (317) 718-8750.