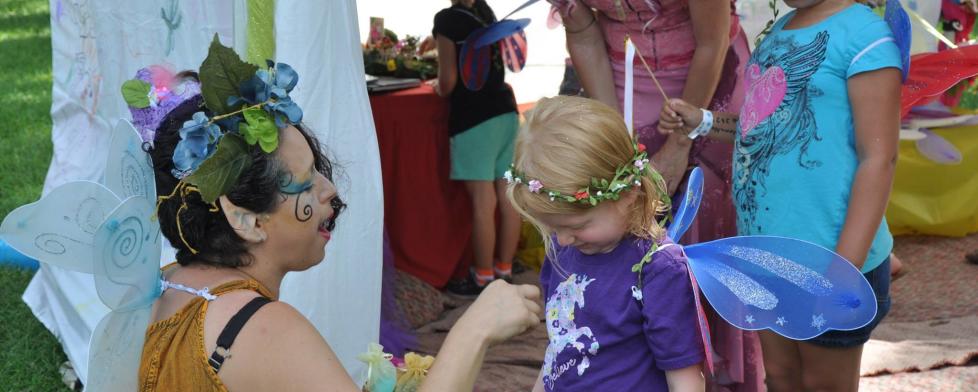 - FOR IMMEDIATE RELEASE -
Contacts: Rebecca Holloway EnchantedFairyTrail@gmail.com or (317) 840-6975; Josh Duke Josh@VisitHendricksCounty.com
DANVILLE, IN (April 14, 2022) – Fairies, unicorns, mermaids and many other legendary creatures will once again unite May 21 & 22, 2022, for the annual gathering of the fairies in the Heartland at the Central Indiana Enchanted Fairy Festival.
This family-friendly festival returns in full force this year for this first time since before the pandemic at Beasley's Orchard in Danville, Indiana.
The Central Indiana Enchanted Fairy Festival is a two-day fantasy immersion experience with a host of demonstrations, workshops, performances and much more from 10 a.m. to 5 p.m. each day.
The fairy festival will expand on the magic that makes the Central Indiana Enchanted Fairy Trail so unique and popular. A sampling of festivities includes exploring fairy village, a fairy tea party, fairy crafts and games and photo opportunities with fairies, live unicorns and mermaids. New, amazing performances will consist of aerial acrobatics 30 feet in the air, a 12-foot tall Unicycling Unicorn, a 7.5-foot-tall storytelling Satyr, Celtic musicians, a magic show, archery demonstrations and more.
Food and drinks will be available for purchase, and 60 craft vendors also will be on hand. A percentage of the proceeds from the event will benefit the Hendricks County Humane Society.
For more information or to purchase discounted tickets in advance for the Central Indiana Enchanted Fairy Festival, go to www.CentralINFairyFest.org.
To learn more about the year-round fairy trail which includes fairy stops in eight counties with 50 locations throughout Indiana, go to www.CentralINFairy.org.
The Hendricks County Tourism Commission d/b/a Visit Hendricks County attracts visitors to the county by promoting and developing tourism, which stimulates economic growth and enhances quality of life. Find us on Facebook at Facebook.com/VisitHendricksCounty and become a fan for updates and reminders, contest info and much more. You can also follow us on Twitter @HendricksCounty or get updates by following or subscribing to our tourism blog at VisitHendricksCounty.com/blog. For more information, visit our website at VisitHendricksCounty.com or call (317) 718-8750.
#####