PRESS RELEASE

8 West Main Street, Danville, IN 46122
317.718.8750  www.VisitHendricksCounty.com
- FOR IMMEDIATE RELEASE -
Contact:  Josh Duke     Josh@VisitHendricksCounty.com
DANVILLE, IN (April 11, 2017) – Officials representing Hilton, Sun Companies, Hendricks County, the Town of Plainfield and Visit Hendricks County will host a groundbreaking ceremony April 18 for the Embassy Suites Hotel & Conference Center located at the I-70 interchange in Plainfield.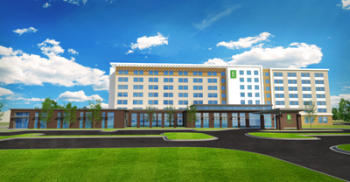 The public is invited to the 2 p.m. ceremony at 6089 Clarks Creek Road in Plainfield (roughly the intersection of Clarks Creek and Perry roads) to help celebrate this significant occasion. Light hors d'oeuvres will be served and several dignitaries will speak.
Once completed, the 175-room Embassy Suites hotel will have more than 21,000 square feet of conference and banquet space in and attached to the hotel as well as a full-service restaurant and numerous other amenities. It will be Hendricks County's first and only full-service hotel and conference center and will be within minutes of the Indianapolis International Airport.
The hotel and conference center is scheduled to be completed in 2018.