PRESS RELEASE

8 West Main Street, Danville, IN 46122
317.718.8750  www.VisitHendricksCounty.com
- FOR IMMEDIATE RELEASE -
Contact:  Josh Duke     Josh@VisitHendricksCounty.com
DANVILLE, IN (April 20, 2017) – Rose DeLarme remembers the day she always dreamed about as if it were yesterday. That life-changing moment came last year when her then-boyfriend Matt Cronley got down on bended knee and proposed to her in front of Cinderella's Castle at Walt Disney World.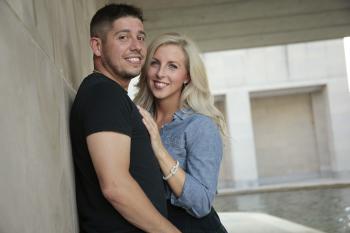 As the first winning couple of the Visit Hendricks County Wedding Contest, Rose and Matt will share their journey of love, hope and marriage throughout this summer leading up to their unique morning wedding at Avon Gardens in September.
Twenty-one applicants entered to be featured as the first-ever Visit Hendricks County Wedding Contest couple submitting personal information, the venue they were using for their wedding and their personal stories detailing how they met, how they got engaged, what Hendricks County vendors or services they are using and any unique ideas they have for their wedding.
Visit Hendricks County created the contest late last year to find soon-to-be or newly engaged couples to help market the county's bridal services.
"We truly were floored by the response we received," said Visit Hendricks County Director of Marketing Sarah Ferguson. "All the applicants had such great stories to share that it made choosing a winner extremely difficult, but we couldn't have been happier with the selection of Rose and Matt."
The bride and groom both work for the City of Indianapolis where they met. They will get married on Sept. 16 of this year at Avon Gardens. As Visit Hendricks County's featured couple, they will write a series of blog posts beginning this spring. You can follow their story on the Hendricks County Insider blog at www.VisitHendricksCounty.com/Blog. They also will be featured in the next Visit Hendricks County Wedding Guide.
Choosing a wedding couple proved so difficult that a few honorable mentions were chosen and their wedding photos also will be featured in a future Wedding Guide.
Engaged couples who are planning a wedding can download a free Wedding Guide anytime at www.VisitHendricksCounty.com/Weddings or pick one up at the Visit Hendricks County office, 8 W. Main St., Danville. It is packed full of local vendors who can meet any need they may have.
Visit Hendricks County can also help any local couple with various complimentary services including blocking hotel rooms and providing welcome bags to guests who stay in a Hendricks County hotel.
For more information, contact Kara Harlan by e-mail at Kara@VisitHendricksCounty.com or by phone at (800) 321-9666, or visit our website at www.VisitHendricksCounty.com and click on the Weddings tab at the top of the page.