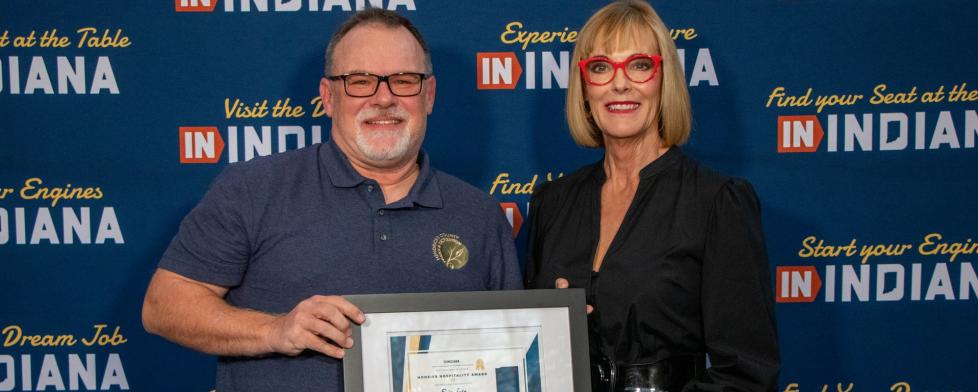 - FOR IMMEDIATE RELEASE -
Contact:  Josh Duke     Josh@VisitHendricksCounty.com
DANVILLE, IN (December 8, 2022) – A Danville resident who has become a major part of Hendricks County tourism through his writing skills for Visit Hendricks County and his work with the Hendricks County Parks & Recreation and Indiana Lyons basketball team received statewide recognition today.
Eric Ivie, Hendricks County Parks Assistant Superintendent and long-time Hendricks County Insider, was one of 16 recipients of the 2022 Lieutenant Governor's Hoosier Hospitality Awards during a ceremony today in Indianapolis.
Lt. Gov. Suzanne Crouch presented Ivie with the award.
Ivie writes for the Hendricks County Insider tourism blog and recently celebrated his 10th year as one of the original members on the team. He has crafted more than 400 blog posts and become one of Hendricks County's biggest supporters informing residents and visitors about the top attractions, events and things to do in the county.
Ivie joined the Hendricks County Parks Department in 2016 as a part-time administrative assistant in charge of public relations, and by 2018 was promoted to assistant superintendent.
"Eric is often behind the scenes, the hidden gem of our hospitality efforts at Hendricks County Parks & Recreation," said Parks Superintendent Ryan Lemley. "Eric is never concerned about individual credit, and he regularly dedicates countless hours, often after regular office hours, promoting department programs, park enhancement projects, along with progress pertaining to capital projects." 
Most recently, Ivie added another title and more responsibility joining Hendricks County's ABA basketball team, the Indiana Lyons, as its Director of Communications.
Nominations for Hoosier Hospitality Awards are submitted by community members and destination patrons. Nominations are reviewed, and winners are selected by the Indiana Destination Development Corporation.
The Hendricks County Convention and Visitors Bureau, Inc., d/b/a Visit Hendricks County attracts visitors to the county by promoting and developing tourism, which stimulates economic growth and enhances quality of life.  For more information, visit our website at VisitHendricksCounty.com or call (317) 718-8750.