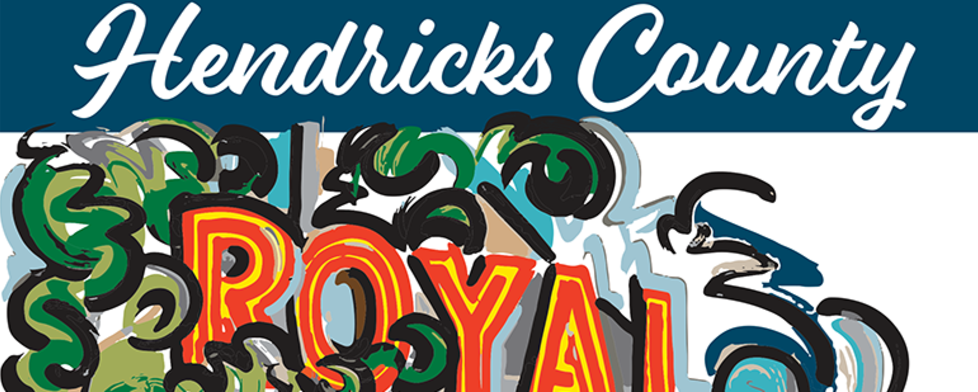 - FOR IMMEDIATE RELEASE -
Contact:  Josh Duke     Josh@VisitHendricksCounty.com
DANVILLE, IN (March 22, 2022) – A beautiful, local artist's rendering of the front façade of the Royal Theater introduces visitors and even locals to the new 2022 Hendricks County Travel Guide, which is packed with information on local attractions, events, things to do and more.
Zionsville artist Justin Patten, known for his Storm Striker Art that brings energy and excitement into everyday scenes and logos and is perhaps best known for his depiction of the Indianapolis Motor Speedway logo, partnered with Visit Hendricks County to bring his unique style to some of the county's signature attractions that are sprinkled throughout the guide.
"This was such a great project to work on because I got to create the art and hand it to some other talented people," Patten said. "Seeing how they put it together is so amazing. (My family) is planning a day trip to explore the Hendricks County area now."
While featuring Patten's artwork provided a new element Visit Hendricks County had never tried in a Travel Guide before, what's inside the guide will entice travelers to visit. The guide is packed with more than 40 pages including the county's best-kept secrets, beautiful images, insider tips and ideas for things to do, events and so much more. The Visit Hendricks County team even brought back their popular tear-out restaurant and hotel map located in the center of the new Travel Guide.
Visit Hendricks County recently debuted its new 40-page, magazine-style Hendricks County Wedding Guide as well.
The new guides are available and free and can be requested online at VisitHendricksCounty.com.
The Hendricks County Tourism Commission d/b/a Visit Hendricks County attracts visitors to the county by promoting and developing tourism, which stimulates economic growth and enhances quality of life. Find us on Facebook at Facebook.com/VisitHendricksCounty and become a fan for updates and reminders, contest info and much more. You can also follow us on Twitter @HendricksCounty or get updates by following or subscribing to our tourism blog at VisitHendricksCounty.com/blog. For more information, visit our website at VisitHendricksCounty.com or call (317) 718-8750.
#####