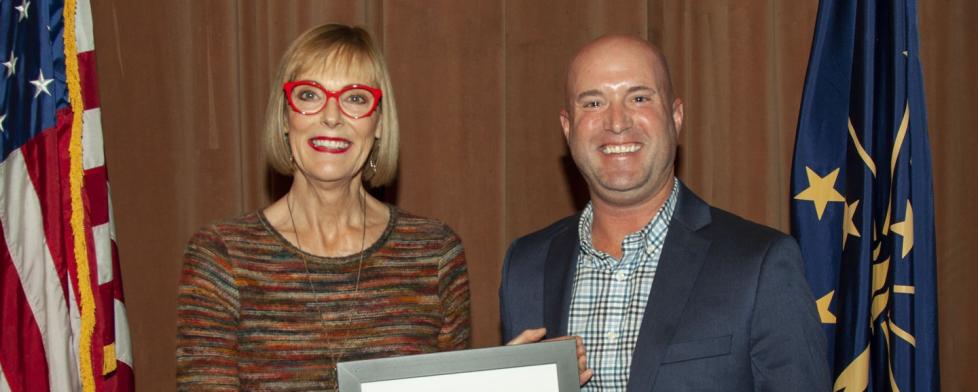 - FOR IMMEDIATE RELEASE -
Contact:  Josh Duke     Josh@VisitHendricksCounty.com
DANVILLE, IN (November 8, 2021) – A Plainfield hotel director who has become known for his community work, positive attitude and willingness to do anything for his business and visitors he serves received statewide recognition last week.
Mike Grabowski, Director of Sales & Marketing at the Embassy Suites by Hilton Plainfield Indianapolis Airport, was one of 16 recipients of the 2021 Lieutenant Governor's Hoosier Hospitality Awards during a ceremony on Nov. 5 in Indianapolis.
Lt. Gov. Suzanne Crouch presented Grabowski with the award.
Thanks in part to Grabowski, the Embassy Suites, which is Hendricks County's first and only hotel and conference center, has thrived despite the pandemic occurring only a year after the hotel opened. Grabowski even had to let his entire staff go for several months during the pandemic serving as a one-man show handling all the calls for cancellations and date changes until visitors and business returned.
Grabowski also has become a mentor to younger staffers at the hotel and shown his value outside the hotel serving his community by personally delivering welcome bags to new residents, helping stuff food boxes and holding food drives for local food pantries, donating and delivering hundreds of bags of goodies for local healthcare workers during the pandemic and much more at a time when his own business and industry was struggling.
Nominations for Hoosier Hospitality Awards are submitted by community members and destination patrons. Nominations are reviewed, and winners are selected by the Indiana Destination Development Corporation.
The Hendricks County Tourism Commission d/b/a Visit Hendricks County attracts visitors to the county by promoting and developing tourism, which stimulates economic growth and enhances quality of life. Find us on Facebook at Facebook.com/VisitHendricksCounty and become a fan for updates and reminders, contest info and much more. You can also follow us on Twitter @HendricksCounty or get updates by following or subscribing to our tourism blog at VisitHendricksCounty.com/blog. For more information, visit our website at VisitHendricksCounty.com or call (317) 718-8750.
#####