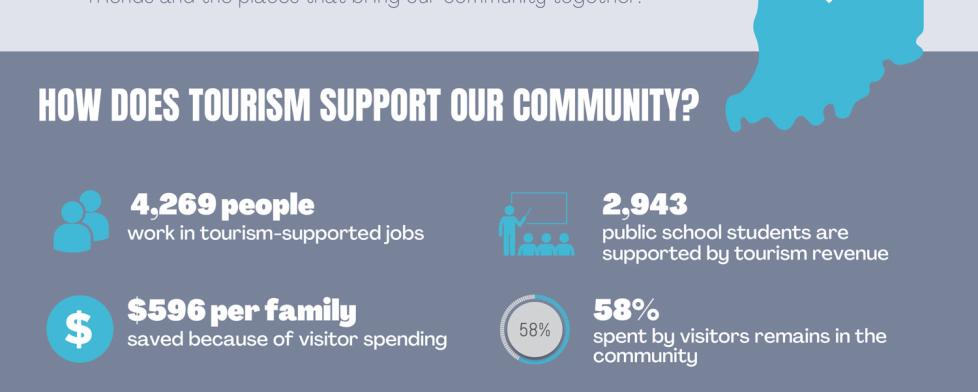 - FOR IMMEDIATE RELEASE -
Contact:  Josh Duke     Josh@VisitHendricksCounty.com
DANVILLE, IN (May 16, 2023) – Whether it's enjoying family fun at Beasley's Orchard or watching a dragster speed down the Lucas Oil Indianapolis Raceway Park drag strip, tourism continues to rise in Hendricks County as a recent study reports growth of 5.6 percent.
The new economic impact report by Rockport Analytics, an independent market research and consulting company, mirrored results statewide that tourism is thriving at every level.
"We continue to see growth in visitor spending," said Jaime Bohler Smith, Visit Hendricks County's Executive Director/CEO. "Revenues generated from tourism serve as an economic opportunity that helps our businesses and provides an improved quality of life for every resident."
Travel generated $317.1 million of visitor spending for the Hendricks County economy, supporting 4,269 local jobs. Of the 92 Indiana counties, Hendricks ranked 10th in tourism spending and 5th in tourism growth, according to Rockport Analytics which used data from 2021; the most recent year complete data was available.
Hendricks County also ranked 2nd in three critical hotel metrics compared to other Central Indiana counties in 2021. To see a graphic of all the major highlights, click the button below.
Visit Hendricks County joined other tourism service industry partners last week to celebrate National Travel & Tourism Week by shining a light on our local tourism businesses in expressing what travel promotion means to jobs, economic growth and personal well-being.
To learn more about tourism in Hendricks County, follow Visit Hendricks County on its website at www.VisitHendricksCounty.com, Facebook at www.Facebook.com/VisitHendricksCounty, Twitter @HendricksCounty or on Instagram at HendricksCounty.
The Hendricks County Convention and Visitors Bureau, Inc., d/b/a Visit Hendricks County attracts visitors to the county by promoting and developing tourism, which stimulates economic growth and enhances quality of life.  For more information, visit our website at VisitHendricksCounty.com or call (317) 718-8750.