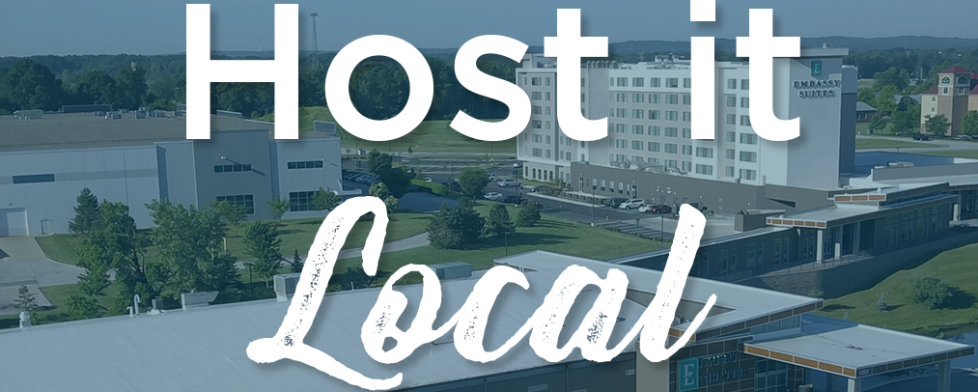 - FOR IMMEDIATE RELEASE -
Contact:  Josh Duke     Josh@VisitHendricksCounty.com
DANVILLE, IN (September 23, 2020) – A new initiative designed to reinvigorate Hendricks County's meeting and conference business will lean on incentive-driven local support.
Visit Hendricks County recently unveiled its Host It Local campaign encouraging local businesses and residents to choose a Hendricks County venue when planning their next event, meeting, tradeshow, conference, reunion or other gathering.
"As we move forward with plans to meet and gather again, we know the experience will be different, but we really wanted our locals to consider helping their neighbors by keeping these events close to home." said Becky Harris, Visit Hendricks County's Director of Sales. "Just know, we will do our best to help you plan a fun, memorable and socially responsible event whenever the time is right for you to start meeting again."
Each business referral sent to Visit Hendricks County boosts the local economy and makes the individual or business eligible to receive All In Hendricks County merchandise including specialized T-shirts, phone cases, mugs, facemasks and more. In addition, the first five qualified meetings or conferences that are reserved will receive a $100 cash donation in the organization's or individual's name to the Hendricks County Rapid Response Fund. That fund supports non-profit organizations that serve communities most directly impacted by the COVID-19 outbreak.
Those referrals also will receive assistance from Visit Hendricks County with their event or meeting including finding the perfect venue, securing a hotel room block for their guests, promotional and marketing help for their event and more.
To learn more about Visit Hendricks County's Host It Local program, click here.
To purchase All In Hendricks County merchandise, click here.