Spring is headed our way next week (thank goodness!). That means Spring Training has started for Major League Baseball, which makes me think of hot dogs.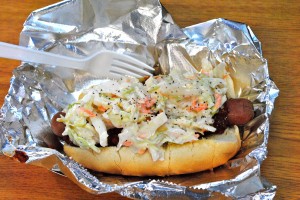 Craving a hot dog, I decided to try the two places in 
Hendricks County
that specialize in them:  Diggity Gourmet Dawgs in
Danville, Indiana
 and the new DJ's Hot Dog Co. in
Avon, Indiana
. I figured I'd eat at each place and decide which one is my favorite, but as I quickly discovered, comparing Diggity and DJ's is like comparing apples and oranges -- or, more accurately, hot dogs and brats. It's not fair to declare one of these Hendricks County hot dog establishments "better" than the other. They both serve outstanding food. It's the atmosphere that sets them apart.
DJ's Hot Dog Co.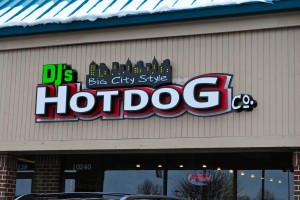 New to Hendricks County, DJ's Hot Dog Co., is located at 10240 E. U.S. 36 in Avon in the Shiloh Crossing Shopping Center across from Target. The Avon store is one of
four locations
around the Indianapolis metropolitan area -- the other three are in Greenwood, Downtown Indy and on the northeast side of the city -- owned by a family who came to Indianapolis from Chicago. I spend a lot of time in Chicago, and I've eaten many Chicago Dogs there, so I wanted to see how DJ's does a Chicago Dog. The place was pretty busy when I got there, and I immediately got the hustle-and-bustle feeling of being in a big city. I ordered a Chicago Dog, and the employee asked me if I wanted to jumbo size it. Sure. Why not? "WE GOT A JUMBO!" he yelled with a Chicago accent, half-startling me. "JUMBO!" several employees yelled back. I wasn't sure what to make of that. Were they referring to me or the hot dog?
I watched him put my order together with a 100% beef dog, mustard, onion, neon relish, tomato, a kosher pickle spear, cucumber, sport peppers and celery salt. It certainly
looked
like a Chicago Dog. I made it a combo with fries and a fountain drink (Don't judge me! I was hungry!) and dug in. It absolutely
tasted
like a Chicago Dog, too! The peppers lit my mouth up the way I like, and the combination of the flavors of the hot dog and the chatter and hubbub in the restaurant took me right back to the Windy City. DJ's offers a
wide variety of hot dogs
 (and other items, too), the decor is professionally done, as you'd expect from a company with multiple stores, and they have a TV on the wall to watch while you eat. All in all, a great experience.
Diggity Gourmet Dawgs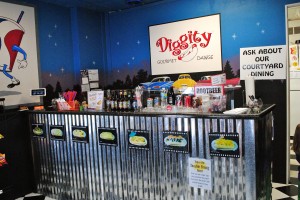 Diggity has been at 68 S. Jefferson St. in Danville, on the west side of the Courthouse Square, since it opened in May 2011. Co-owners Shannon Shirven and Kerry Trout are Danville residents, and like DJ's, they know how to put together a mean hot dog. I've been there on many occasions and my favorite Diggity dawg is the Reuben -- all-beef hot dog, Swiss cheese, sauerkraut and Thousand Island dressing. My wife loves the Classic Carolina -- a chili dawg smothered with cole slaw. Those are just two of
many varieties
offered by Diggity, and they're all delicious.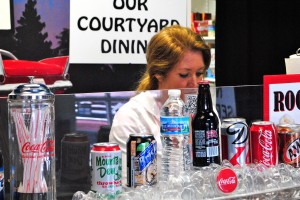 Diggity's has a very different atmosphere than DJ's. It's a cozy shop that offers both indoor and outdoor seating (when it's warmer), hand-painted 1950s-themed artwork on the walls and '50s decor throughout the shop, homemade signs taped on the windows, and either Shirven or Trout working behind the counter. Both ladies chat with you like they've known you for years (in my case, they have) as they build your hot dog, and then you relax and eat your meal with a bag of chips and a can of soda, peacefully looking out on the historic Courthouse Square. A one-of-a-kind shop run by the two owners, Diggity is normally open for lunch from 11 a.m. to 2 p.m. on weekdays and from 11 a.m. to 4 p.m. on Saturdays. But you'll also often find Diggity open for the multitude of
events on the Square
throughout the year, serving great food, soft drinks and beer. In addition to running the shop, Shirven and Trout also cater events. Call (317) 604-6008 for more information. Whether you like the big city hustle and bustle or the laid-back pace of Small Town America, these Hendricks County hot dog hot spots have you covered with outstanding food and unique atmospheres that are sure to make all hot dog lovers happy. Try them both and tell us what you think!