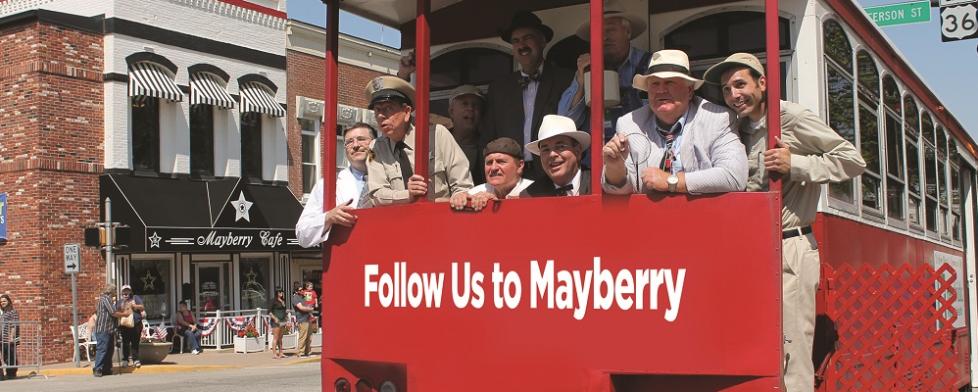 As I arrived at the first-ever Mayberry in the Midwest festival last year in Danville, I was excited about its potential, but tried to temper my expectations especially in its inaugural year.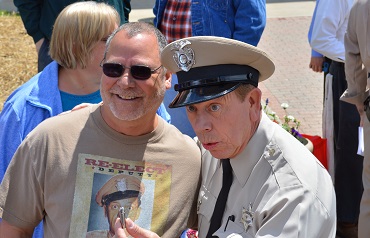 Thoroughly impressed upon arrival, it didn't take long before a quote from the show by none other than Barney Fife hit me, "You'll never guess what's happening! Something big...real big. Big! Big!"
But even Barney Fife couldn't have overstated this festival. An estimated 4,000 people attended. Vendors were selling out of merchandise. Tribute Artists and other dignitaries who attend similar festivals throughout the country including the biggest one of them all in Mt. Airy, N.C., raved that Mayberry in the Midwest even in its first year may have been the best one they ever attended. I even personally witnessed visitors pleading with the organizers to bring the festival back for 2015.
Well, it is coming back and today marks 50 days until this year's festival returns, May 15-17. Building upon last year's success was important for the organizers who told me they wanted to bring back elements of the festival that worked while tweaking and adding other Mayberry-themed activities to offer something that is different from any of the other Mayberry festivals across the country.
What Can Visitors Expect?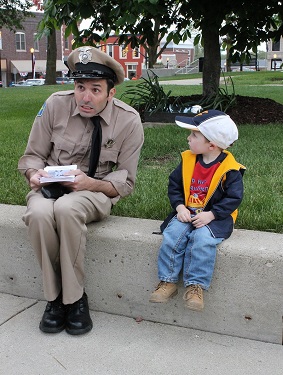 To start with, you should expect much of the fun and zaniness that made last year's event so great, and the best part is most of the activities are FREE.
The Tribute Artists, who do such an amazing job bringing some of the show's favorite characters back to life -- including Barney, Gomer, Goober, Floyd, Otis, Ernest T and many more -- will be back performing on stage twice each day as well as mingling with the crowd throughout the festival. They are so good that I sometimes had to remind myself that wasn't the real Floyd or Barney on stage.
The popular parade also returns at 9 a.m., Saturday. The parade only happens once that weekend and for my money is a can't-miss part of the festival. The Tribute Artists once again take center stage for much of it. But the parade also features a pack of Opie look-a-likes, tractors, old-fashioned squad cars and much more.
Two original cast members from the show, Maggie Peterson Mancuso (Charlene Darling) and Rodney Dillard (a Darling boy), also are scheduled to return.
The Squad Car Nationals, which some people may have missed last year due to its location and timing, also returns but will be held at 9 a.m. on Sunday this year and in a new location closer to the Courthouse Square at the Hendricks County Government Center South Lawn, a couple blocks south of the square on Washington Street.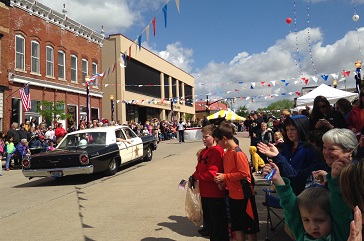 In fact, one of the lessons organizers learned last year was the importance of keeping every aspect of the festival on the square or within a block or two of the square. So this year's event will be more pedestrian friendly.
Other returning activities include a pancake breakfast on Saturday morning at the fire department building just northwest of the square, reruns of The Andy Griffith Show running on the big screen at the Royal Theater, activities at the Hendricks County Historical Museum, Opie's World Play Area, Tractor Town and a concert featuring Rodney Dillard and his band at 6 p.m. on Saturday.
What's New
First of all, the event has added an extra day as vendor booths open at 1 p.m., Friday May 15. That same evening the Meet & Greet VIP Dinner returns from 6 to 9 p.m. but at a new location inside the beautiful Hendricks County Courthouse Rotunda. We will have more information on this event that is one of the few events that requires a ticket in a post next month.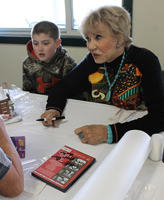 This year's festival also will have a special guest who was not here last year. Karen Knotts, the daughter of Don Knotts, will have two ticketed shows inside the Royal Theater in which she will share stories from here life with her legendary dad. I'm told she is an amazing woman and an unbelievable storyteller. The two shows will be exactly the same held at 2 p.m. both days.
Organizers decided to condense and streamline the contests this year as they will have a Mayberry Face Off Game on the main stage at noon on Saturday and another game show beginning at 12:30 p.m. on Sunday. Unlike last year, you do not register in advance to participate. They will instead pick volunteers from the crowd.
Finally, two new events will occur on Saturday night that could really be fun. Both are ticketed events. At 7:30 p.m., Mayberry After Dark will begin. It has vaguely been described to me as part scavenger hunt, part pub crawl, part walking tour with a Mayberry twist.
If you pay for tickets for the Mayberry After Dark event, the other new event -- The Mike Toomey Comedy Show -- is included at 9 p.m. at the Royal Theater. I've heard this guy is really funny and has some great Mayberry material. You can purchase tickets just for the Mike Toomey Comedy Show as well.
I realize that is a lot to process, but what can I say, there is a lot going on. I highly recommend this festival to any visitor whether you love the show or not. I know this is kind of cliche, but it truly is one of those festivals that is perfect for every member of the family.
You can get more information including parking details or purchase tickets for the ticketed events at this website. Keep reading our Hendricks County Insider Blog for more festival details including chances to win free tickets to some of the activities!
Hope to see you there. It is going to be BIG!