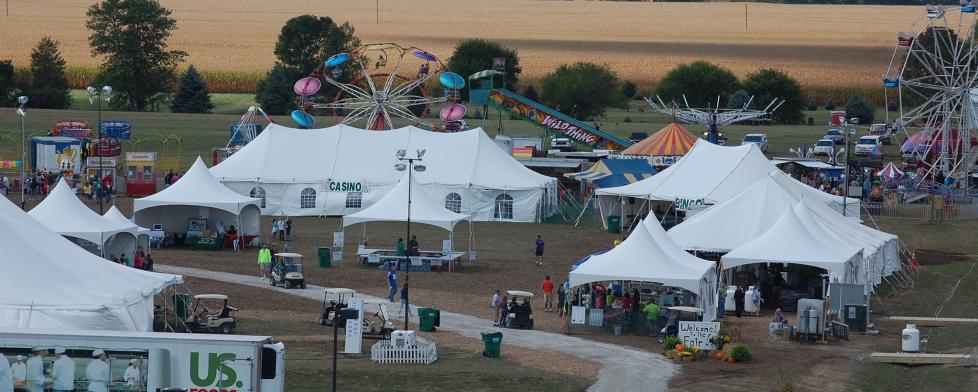 St. Malachy's Country Fair draws quite the crowd each fall for food, fun and games. It's a great time of year, as the full force of school and sports start to take affect, to take a break and enjoy the simple things -- like their popular, delicious pork sandwich.
The first stop you should make when you get to the St. Malachy Parish grounds, 9833 E County Road 750 North, Brownsburg, is the ticket tent where you'll purchase Country Cash to use for food, drinks and casino games. Fair hours are 4-11 p.m., today (Friday) and 3-11 p.m., Saturday.
Here's what you can look forward to this weekend, Sept. 16-17...
Food and Drinks
Ask anyone who has been to St. Malachy's Country Fair, and they'd say that the roast pork from the hog roast each night and the elephant ears are the main events. Delicious.
At the food tent, you'll also find a variety of sides, full pork dinner option, pork sandwiches and burgers, corn on the cob, desserts and soft drinks. Additionally, you can check out the food trucks for more good eats.
Stop by the Sun King Beer Garden for your favorite brew or discover a new favorite. They'll be serving up Sun Light Cream Ale, Osiris Pale Ale, Wee Mac Scottish Style Ale and Coors and Miller Lite.
The Monarch Tenet will also be serving these beer brews, a variety of Barefoot wines and assorted coolers.
Live Entertainment
No Country Fair would be complete without great, live entertainment. You'll have plenty to enjoy this weekend.
On Friday night, DJ Viesta will take the stage from 4-6:30 p.m. followed by Tossin-N-Turnin until 10:30 p.m.
Saturday's lineup includes Audio Diner from 3-6 p.m. and GTR from 6:30-10:30 p.m.
So, grab a drink and kick up your heels under the September sky.
Fun and Games for the Kids
This weekend is jam packed with fun for the kiddos. Midway carnival rides will be operating during the entire duration of the fair. With rides that go up, down and spin you all around. Wristband special is Saturday from 3-6 p.m.
Kiddie games will be open until 9 p.m. each day of the fair. You also won't want to miss the children's barnyard and hayride.
The Pacer Fan Van will provide fun for the whole family on Friday from 4-6 p.m and Colts in Motion on Saturday from 5-7 p.m.
Fun and Games for the Grown-Ups
There is plenty of fun and games lined up for the adults, too. The games get started with a Reverse Raffle on Friday night once all 300 tickets are sold. If you're not the patient kind, no worries, Instant Pull-Tabs will be available on Friday and Saturday beginning at 6 p.m.
The Casino will open on Friday and Saturday at 6 p.m. where you can try your luck at Blackjack and Texas Hold-em. BINGO starts at 7 p.m. on Saturday in the gym.
You can also make a bid on some great items and packages at the Silent Auction held on both days in the school Rotunda.
Bike Ride Benefit for Haiti
The 2016 Help for Haiti Bicycle Tour will be held in conjunction with St. Malachy's Country Fair. A great day of riding winding routes through Hendricks and Boone Counties. Riders can choose routes with distances of 3, 9, 25, 45 and 64 miles. 
All routes begin at St. Malachy Parish. Check-in and registration opens at 7 a.m. on Saturday, with a 7:30 a.m. ride start time for the 45- and 64-mile routes; 9 a.m. start time for all other routes.
Registration fee is $35 per rider or $60 for a family. More information about the ride, the Haiti benefit and registration can be found here. 
SAG rest stops with restroom facilities, water and snacks will be along the 25-, 45-, and 64-mile routes.
Rider registration for all routes also includes a lunch of a pork burger or sandwich, a dessert and a drink, including the option of an adult beverage.
Perhaps you hadn't heard about the St. Malachy Country Fair or haven't been able to visit in previous years? This is the year to take a break from the hectic routine and enjoy the food and fun at this year's fair. Hope to see you there.