During my time blogging here at
Visit Hendricks County
, I've had the pleasure of dining at a lot of restaurants. All in the name of research of course. Think of me as your official restaurant researcher! So, I thought it would be a good idea to highlight a few standout dishes at one of Hendricks County's most popular restaurants,
Dawson's Too Sticks & Stones
. I happily recommend Dawson's Too to my friends and family and to you as a must-visit restaurant in Hendricks County. Looking for a restaurant to hold a bridal or graduation event, or what about taking mom or grandma out for Mother's Day? Dawson's Too is the place for you.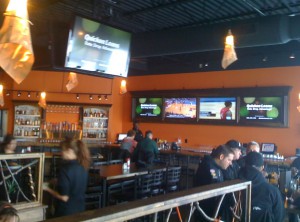 Dawson's Too
is a locally-owned restaurant that has been part of Brownsburg's Main Street since 2011 and is conveniently located, just a short drive from I-74. It's one of Hendricks County's best independent restaurants and with its large menu, there's a dish that will please most any diner on most any budget. I've had the opportunity to dine there a few times recently and thought I would share some of my favorite dishes and why I like them.
Dawson's Hand-Pattied Burger -Build Your Own
($7.99, includes a side)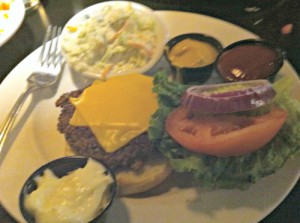 My parents previously owned a hamburger restaurant, so I'm always on the lookout for a good hamburger. This burger does the job and is quite tasty. It's a fresh, handmade beef burger served on a Kaiser roll with your choice of toppings (cheese, grilled onions, mushrooms, bacon and guacamole are available for a slight upcharge). The burger is served with a choice of side (options include: house-made coleslaw, potato salad, cottage cheese, chips, French fries or onion rings). I enjoyed mine with a side of coleslaw and watched a baseball game on TV in the bar area of Dawson's Too.
Fish and Chips
($14.99)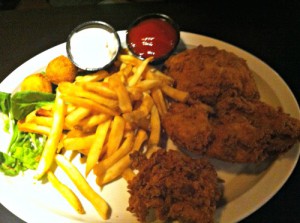 Need an ocean escape? You may not be at the ocean, but for a moment or two you'll think you're sitting ocean side when you taste the fish and chips. I can't resist a platter of fish and chips, especially when it's well-made. This plentiful meal of hand-battered whitefish, French fries, homemade coleslaw and a side of homemade tartar sauce perfected by owner Tony's grandma does the trick. Someday I hope to get the recipe for that tartar sauce.
Steak Susan
($17.99)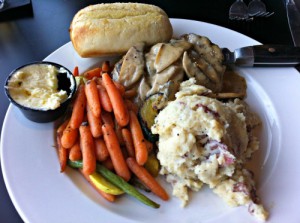 Looking for something a little bit fancier? How about a date night meal? Steak Susan is pan-seared filet medallions, with a portabella mushroom brandy peppercorn sauce and smashed potatoes, served with veggies. This entree is rich and wholly satisfying and will please any meat and potatoes lover. I especially enjoyed the tenderness of the meat with the mushroom gravy. Enjoy the Steak Susan in the dining room, where the lighting is a bit lower, and you have the makings of a romantic meal for two. Are you getting hungry yet? The next time you're in or near Brownsburg, try this family-friendly restaurant which serves flavorsome food and provides equally satisfying service.
Dawson's Too Sticks & Stones
773 E. Main St.Brownsburg, Indiana(317) 858-8400Hours: 11 a.m.-10 p.m., Monday-Thursday, 11 a.m.-1 a.m., Friday-Saturday and 11 a.m.-9p.m., Sunday. Check the
website
for menus, daily specials, reservations and more information on their location in Speedway.