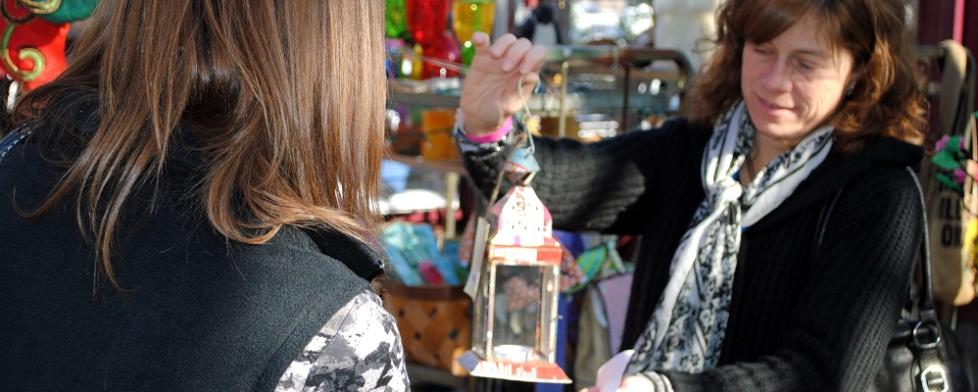 Whenever I go on vacation, I am always looking for that unique souvenir to commemorate our trip. Something I couldn't get anywhere else. And if I can find something that is handmade by a local artist, even better. Because I love to support small business.
So I wondered, if I was visiting Hendricks County, where would I go to find that unique memento? I am so excited to share with you what I found!
Finer Things - Brownsburg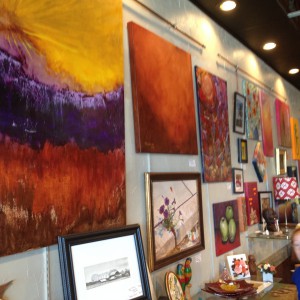 This little shop is amazing! Jewelry, art, purses, vintage dresses, books. You name it, they have it! And the local flair is incredible. Paintings by local artists Frank Lawler and Charles McNally both caught my eye upon entry. Lawler has several beautiful paintings with bright colors. Perfect to decorate any room.
Charles McNally, a resident of Brownsburg, has some mixed media paintings displayed that definitely demanded my attention. Local art by local artists is always a good choice.
How about something a little different? Cinema Swatch Nail Lacquers might just be it.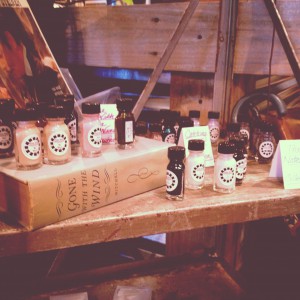 Rachel Dobbins, a Hendricks County native, makes a unique line of nail polish. Each color has a name that goes right along with a movie. Hence the name.
Love the Wizard of Oz? How about a nail color called 'Yellow Brick Road' or 'Ruby Red Slippers'? Love the Goonies? How about a beautiful shade of blue called 'Hey Mikey.'
Each lacquer comes in a vintage bottle. The girls and I had a hard time choosing from all the different colors, but finally walked away with 'The Clock' from Back to the Future. And I have to say the polish stays on great.
Finer Things is located at 1032 E. Main St. in Brownsburg, and they are currently nominated in two categories for 2014 The Indy A-List.
Frazee Gardens - Brownsburg
This little gem is a must stop if you're looking for a unique gift item or something to commemorate your visit. They, too, have so many fun gift ideas from local artists, even Lisa Frazee herself.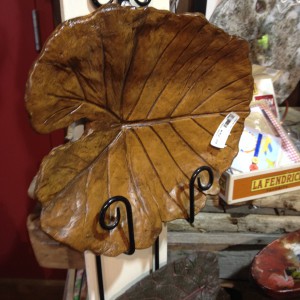 Her paintings are beautiful mixed media, some with newspapers and even flowers. Fitting since just beyond the walls of this shop is a plethora of plants and flowers.
Local artist Lou Emge from Avon also has magnificent handmade leaf castings. I've really never seen anything like it. And I had no idea a simple leaf could be so alluring. Just gorgeous.
Frazee Gardens is located at 3480 N. Ind. 267 in Brownsburg.
Gallery on the Square - Danville
This truly is an admirable little gallery with so much to look at and so many different medias present. Pottery, photography, paintings, jewelry, music, books, the list goes on. And everything is made by an Indiana artist.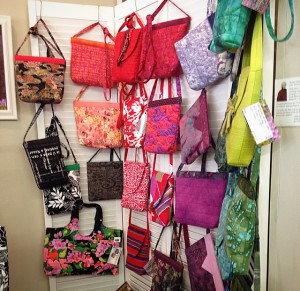 Shirley Adams lives in Avon. You may remember her from a little show on PBS called "The Sewing Connection." Yes, that Shirley Adams.
I honestly loved that show. I remember watching it with my grandmother.
Well, Shirley lives right here in Hendricks County, and Gallery on the Square features some of her pieces. The fabrics are bright and festive and of course sewn perfectly.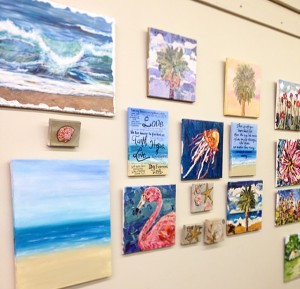 Kimberly K. Scudder is a Danville native, born and raised. My children were drawn to the 'blue wall' as they began to call it with beautiful paintings reminiscent of the ocean, waves and sand. Recently restocked, Scudder's art is very popular. Who doesn't want the beach all year?
I have shared with you today three unique shops all offering Hendricks County locally made favorites. So if you're like me and want to find that special gift or souvenir unique to the area, a little shopping is in order.