I remember times after dinner in the summer when mom and dad would say nothing and just get in the car. We'd stop by and pick up my grandmother and head to town for a surprise treat. The anticipation was almost as good as the ice cream. Looking back, some of my favorite memories of my grandmother were over those surprise strawberry sundaes as we ate, talked and laughed, listening to stories of past and present. Now as an adult, with my own kids, a surprise ice cream is just as fun. Lucky for us, there are quite a few unique places to get that cool treat right here in Hendricks County.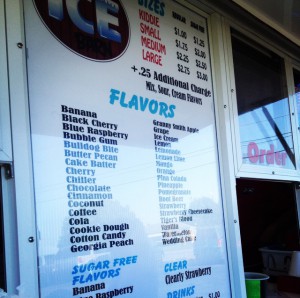 This is by no means intended to be a complete list for Hendricks County, just some of my favorites after living here for years.
1. The Ice Barn
With more than 25 different flavors, the possibilities for this shaved ice treat are endless. You can also add sour mix-ins if you are brave enough, or they have cream and sugar-free options as well. Lawn chairs are provided and there is plenty of space for the kids to run and play. My kids love the surprise that awaits at the bottom of every cup. And I love the prices. Really it's a win-win for all of us. They are located at 1565 E. Main St. in Brownsburg in the parking lot of Barker's Pool and Spa, and they only accept cash. But if you haven't been here before, this should definitely be added to your list of places to try this summer. Be sure to check out their
Facebook
 page for any variances in location or hours due to weather.
2.  Frost Bite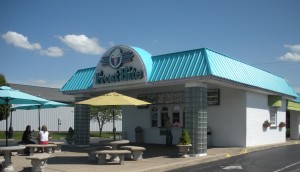 This quaint walk-up eatery is another favorite of ours. Their milkshakes are a popular choice as well as their blizzard-like Frosts. My kids love the Oreo. They have outdoor seating and a full-service food menu as well. They are located at 7025 Galen Drive in Avon near the corner of U.S. 36 and Ind. 267. I highly recommend their chocolate, old-fashioned sodas. That is one of my favorite summertime drinks, and they make one of the best around.
3. Corkey's Fabulous 50's Restaurant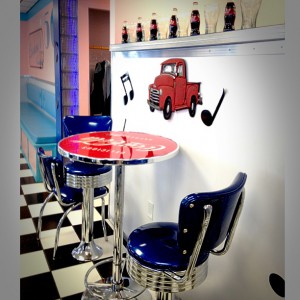 Handmade shakes and malts, hand-dipped ice cream, sundaes, root beer floats and banana splits. We love to stop in and pull up a seat at the counter at Corkey's. It truly is like stepping back into a 1950s ice cream parlor. The portions are definitely big enough to share, if you're willing, and would be a perfect romantic ending for date night. Be sure to follow them on
Facebook
for karaoke nights, too. We also love
Sonic
in Avon as a convenient drive-in; 
Orange Leaf
located in Avon, Brownsburg and Plainfield for it's healthier frozen yogurt options; and of course
DQ
. Next on our list to try this summer is the
Dairy Bar
in Lizton. My friend Erin raves about this place and says everything they make is delicious. So, on a hot summer night very soon, I hope to see you at one of these amazing Hendricks County locations. Bring the family and soak up the dog days of summer with a cool treat and better yet, great company.
What is your favorite cool treat to enjoy in the summertime? Share in the comments and maybe we'll see you there soon.