You've probably heard of goat yoga, but have you heard of alpaca yoga?
Neither had Lori Lovely, owner of Montrose Farms Alpaca Ranch in Brownsburg, Indiana. So that's why she decided to bring it to Hendricks County. This first-of-its-kind alpaca yoga event kicks off from 1-4 p.m. this Saturday, Sept. 15 at her ranch, 3750 N. County Road 950 East in Brownsburg.
The class will last an hour followed by a vegan lunch.
Lovely is partnering with Mindi Epstein, owner of Peace Through Yoga in Danville, Indiana. The collaboration is perfect because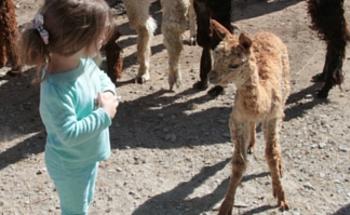 Epstein has wanted to try animal yoga for quite some time. Both women have seen a trend in people looking for a connection with animals. They have high hopes for alpaca yoga because of the nature of the furry beasts.
Since I don't do yoga, and I don't have an alpaca, I wondered what this class will look like and why should people try it? Here are the top three reasons you should consider alpaca yoga:
Try something new. I'd be willing to bet even if you've done yoga, you've never done it with alpacas. So add this to your bucket list! It's literally what it sounds like: yoga with alpacas. While Epstein leads the class, a few of Lovely's friendliest alpacas will wander around, most likely wanting to greet you gently. Lovely said alpacas are extremely curious animals, especially when humans are busy doing something else. Unlike goats, alpacas won't jump on you. They're a large, calming presence, sniffing and batting their big eyes and are very safe to be around.
Animals are healing. It's natural to put animals and yoga together considering how often they are used to heal: dogs and cats are brought into hospitals and senior centers and horses are used in therapy for autistic children or veterans, as just two examples. Being around animals has been proven to be very calming and rewarding. Epstein says it's hard to tell what exactly to expect because animals are unpredictable, but she assured me it will definitely be fun. The laughter and flexibility that comes from being around animals can be more relaxing than some might expect.
Change up your workouts! Maybe like me, you like to work out but you have never tried yoga, or maybe you want to start taking care of your body. This is the perfect opportunity to get the ball rolling because it's outdoors, it's a unique experience and there will be all levels of experience present. If you're going to try something, try it in a fresh and new way by throwing in some alpacas.
So, why not be on the cutting edge of something you can only find in Hendricks County. Lovely said this is the first and only class so far, but she hopes it's the start of something regular.
It doesn't matter if you're a beginner or advanced in yoga. Bring your mat out to Montrose Farms Alpaca Ranch, feel the sunshine on your face and relax and interact with alpacas.
Registration costs $35. You can register by contacting Lori Lovely at (317) 456-4083.