A few years ago, I lived very close to Gilley's Antiques in Plainfield, but I haven't visited since we moved north to Brownsburg. Recently, I had a chance to stop in again and I was surprised by the changes I found.
I learned that Gilley's was purchased nearly three years ago by Jeff and Kim Hines. Since then, Gilley's Antiques has changed names to Gilley's Antique & Decorator Mall, the lobby/checkout area has been redone, customer service has ramped up and the decorator mall has added a lot of furniture and decor that I would classify as the popular rustic, farmhouse style.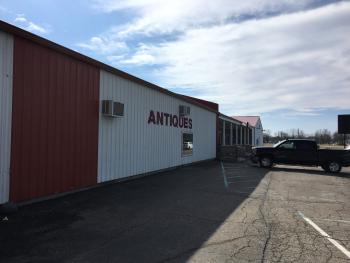 Here are three reasons why you should check out Gilley's the next time you're in Plainfield. 
The Antiques
A majority of Gilley's Antique & Decorator Mall's 200 dealer spaces and 35,000 square feet is dedicated to antiques, including jewelry, clothing, pottery, glass, musical instruments, rugs, lamps, chandeliers, coins, sports memorabilia, tools, clocks, and more, plus victorian, mission, empire, neoclassical and mid-century modern furniture. 
As I was browsing, I especially loved the antique toys I found that reminded me of my childhood, and also the vintage dresses and clothing in one of the booths.
I also found several items that would work in my son's nursery, and some antique cameras that would go great in my camera collection. I can't wait to go back and spend some more time browsing the antique mall. 
The Home Decor
I'm a huge fan of Chip and Joanna Gaines, who are currently wrapping up their fifth season of Fixer Upper on HGTV. I couldn't help but think as I walked through the decorator side of the mall that many of the items would be Chip-and-Joanna-approved.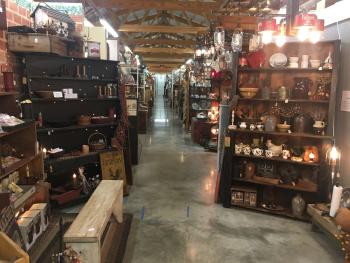 Many of the refinished or repurposed furniture, signs and wall decor, including wreaths and florals, fit into the popular rustic-farmhouse style of decor. But I also found primitive furniture and other styles of decor, too. So, next time you're wanting to spruce up your home with some new (or new-to-you) decor, be sure to check out the decorator mall at Gilley's. 
The Excellent Customer Service
I couldn't believe the number of employees working at Gilley's on the Sunday afternoon I was there. The employees are all equipped with radios, and they can be found at the front counter and throughout both sides of the mall. Owner Jeff Hines said he feels customer service remains vital to their business, and their employees help customers find items, carry items to the checkout counter or even out to their cars.
He also strives to offer good service to his hundreds of antique and home decor dealers that provide the amazing products sold there. You can tell every dealer takes great pride in what they do and sell as every booth has its own character making a stroll through this massive mall almost like going on a treasure hunt.
So, next time you're in Hendricks County, be sure to check out Gilley's Antique & Decorator Mall. I know you will really enjoy it! 
Gilley's Antique & Decorator Mall
Address: 5789 E. U.S. 40, Plainfield, IN
Hours: 10 a.m.-5 p.m., seven days a week 
Contact: (317) 839-8779