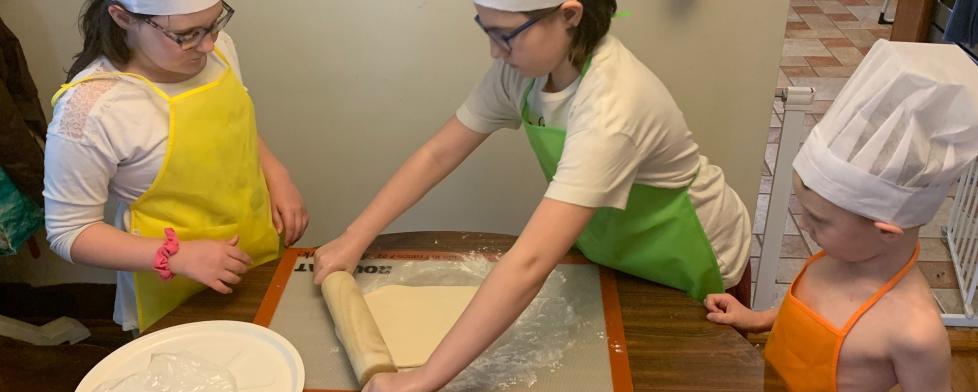 Many of us have practiced social distancing for several weeks now. Boredom has crept in as we search for new ways to entertain ourselves and our family. I've always found the best recipe for boredom is creativity.
As you may have seen, there has been an increasing number of local businesses offering ways to have fun at home. Many of our DIY Studios are helping kids get creative with virtual activities, art projects and story times. You can learn more about these on our At Home Activities page. 
For those of you looking for something a little more outside the box, try making meal time a family activity. Various restaurants around Hendricks County offer take-and-make meal kits to give your family a new way to get messy. Plus, you'll have one less meal to plan for everyone!
So, put away your crayons and sidewalk chalk for a bit and let your family explore their inner-chefs with one of these fun and delicious creations.
1. Donut Kits from Jack's Donuts 
Looking for something sweet? Local Jack's Donuts l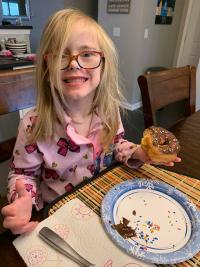 ocations have their Donut Kits available for pre-order for $13 each. Each kit includes 12 yeast rounds, 2 cups of white icing, 2 cups of chocolate icing and 2 cups of sprinkles.
Judging by the reviews, these donut kits are the perfect way to mix things up and satisfy your sweet tooth. Many families I know have had a lot of fun icing, sprinkling and eating their yummy creations. 
Both locations in Hendricks County offer curbside service to pick up your kits when they're ready. In Plainfield, you may also get your kits in the drive-thru. 
Visit your local Jack's Donuts Facebook page for more information or call the store to pre-order. 
Jack's Donuts in Plainfield
Jack's Donuts in Brownsburg
2. Pizza Kits
Rock Star Pizza
Rock Star Pizza in Brownsburg offers Take-and-Make Pizza Kits geared toward young chefs-at-heart. Not only do you get all the ingredients to create and bake your own pizza, but you get a chef apron and hat too!
How fun is that?! 
Aside from the fun gear, my favorite part of these meal kits are the choices. First of all, you get to choose how much pizza fits your family's needs - two 10-inch or one 14-inch. Each kit comes with one topping, and you get to choose that, too!
Each kit is $19.99 and comes with pizza dough, sauce, cheese & one topping. You'll also get one kid-size apron and chef hat. If you have more than one kid that wants to play dress up, you can add on additional aprons & hats for $1 each. 
For those trying to eat a little healthier, there are also Salad Starter Kits available. These include a 16 oz jar of their popular homemade ranch dressing and homemade croutons.
To keep everyone safe, Rock Star Pizza is offering free curbside service and delivery. You can also pay over the phone when you order. 
Learn more on their Facebook page or call them to place an order.
Charbonos
Charbonos in Avon has two different Pizza Kits that you can order for carryout. For the carnivores out there, the Meat Lovers Pizza Kit includes marinara, mozzarella, pepperoni, Italian sausage, bacon and ham.
If you're feeling more of an Italian vibe, you can choose the Margherita Pizza Kit that includes mozzarella, garlic oil, bruschetta tomatoes, parmesan and fresh basil.
Each kit also includes cornmeal, pizza dough and instructions.
Books & Brews
Books & Brews in Brownsburg put a fun literary play on words with their pizza kits. You can now order a Naan-Fiction Take & Bake Family Fun Kit for $19.99.
For those of you who are unfamiliar with naan (like me), it is a type of oven-baked flatbread. These kits include flatbread and all the fixings to create a delicious pizza.
3. Fajita Dinner Kits from Rusted Silo
For those craving Mexican cuisine, Rusted Silo Southern BBQ & Brewhouse in Lizton has you covered! You can now get Fajita Dinner Kits that feed families of 4-6 people. 
The kits include everything you could want out of a fajita. You get steak, chicken, guacamole, pico de gallo, crema, tortillas, Spanish rice and refried beans. Yum!
All you have to do is order your kit online and pick it up curbside when its ready for you. Again, according to some of the Facebook comments, these kits have been a huge hit.
One respondent said: These were the best fajitas and fixins I have ever had in my life!
Rusted Silo also has offered Virtual Cookout Specials as well, but both the cookout packs and these fajita dinner kits tend to sell out fast. 
Learn more on the Rusted Silo Facebook page or order your kit online.