Professionals in the wedding industry refer to the time between Christmas and Valentine's Day as "Engagement Season" because so many proposals occur during that time.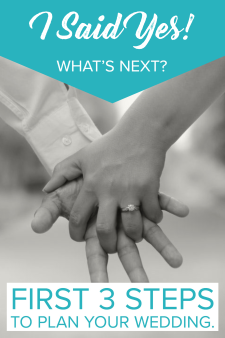 After the excitement of engagement, the reality of wedding planning sets in. Couples feel overwhelmed with where and how to start planning because of all the details to consider.
So, for the newly engaged, I'm going to outline typical first steps and the order of planning to help it all seem more manageable. 
Step 1: Secure Your Venue(s)
The first step in the wedding planning process should focus on securing your venue(s). If for no other reason, it determines the date of your big day.
Often, high-demand venues book popular dates up to two years in advance, so if your timeframe is shorter than that, you may be at the mercy of the venue's availability. If you are set on a high-demand venue with a full calendar, consider off-peak days such as a Friday.
However, when considering the date, remember your guests as well.
Will most of them travel from far away or are they local? If it is a Friday, many of them may have work conflicts.
Having your wedding on a Friday also would likely put your rehearsal on a Thursday, which is something to consider when thinking of the schedules of your family and bridal party. 
Step 2: Secure Your Must-Have Vendors
Our couples put a very high priority on the photography for their wedding day. So, we are often contacted as soon as the venue and date are finalized, and sometimes before.
Quite often, the photographer comes second, but if you have some other must-have vendors for your wedding day, be sure to contact them as soon as possible.
Every year, we, like many other photographers in the area, turn away more couples than we book because we can only schedule one wedding a day. So, never feel as though you are reaching out too early.
We would hate for you to not be able to work with your dream team of vendors because they are already booked. 
Step 3: Consult the Vendors You Have Booked 
You will find a sea of wedding vendors out there for everything you could possibly need from a planner, if you are planning to hire one, to the bakery for your cake to the DJ or band who will entertain your guests.
Speak with your venue and photographer to see who they recommend.
The venue and photographer are the only vendors who will be there for nearly the entire day, so they will have a unique perspective and ability to make recommendations for all parts of the day. They can share vendors they've worked with in the past who did a great job.  
In addition to recommendations from other vendors, if you are planning a wedding in Hendricks County, Visit Hendricks County has some great resources on their wedding page, especially their updated Wedding Guide with lists of vendors, suggestions and tips.
They can also help with hotel room blocks, and all their wedding services are complimentary.
Wedding shows also are coming up, so be on the lookout for them. That is another good place to start your journey, and Visit Hendricks County is a good resource to find out exactly when those shows will occur.
But most importantly, have fun and enjoy your wedding planning. It remains a unique time in your life. So, don't get too caught up in it, and remember to stay positive while crafting a wedding day that is all your own.