This time of the year when the first snowfall arrives, residents and visitors often ask where they can find the best public places to go sledding in Hendricks County.
So, I asked in a Facebook poll and came away with four great options and even added an honorable mention. As a friendly reminder, please keep these details in mind when hitting the local sledding hills. Please only park in the parking spaces indicated at the site. Also, do not drive on the hills and no building of ramps on the hills.
It is also asked that people put any items they are wishing to be disposed of from their sledding experience, such as broken sleds, in or near a trash can, or take them out of the park/church property.
All of the locations listed below are free to use, and visitors sled at their own risk.
So, when that next big snowfall occurs, grab a sled and get out and enjoy it at one of these locations: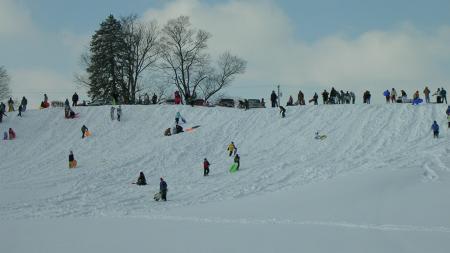 Arguably, the best overall sledding spot in Hendricks County, Hummel's hill is located on the backside of the Guilford Township park off County Road 700 East (you can't get there using the main entrance on Center Street) and is steep and wide allowing multiple people to sled at one time.
Probably the best part of this hill compared to some of the others I will describe below is how open the space is there. The only thing you may have to avoid at Hummel is other sledders.
Another bonus about this spot is parents who don't want to get out in the cold can stay in their car and still monitor the activity as the parking lot below provides a good view of the entire hill.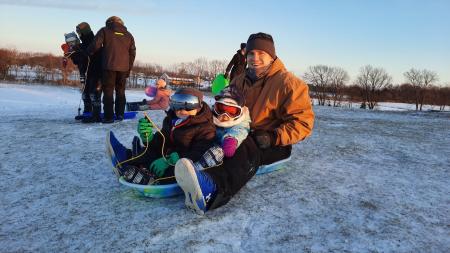 The newest sledding hill to Hendricks County's arsenal can be found at W.S. Gibbs Memorial Park. This 30-foot-tall hill can be found at the front of the park and was created in 2021 using the soil that was dug up to create the two ponds in the park.
The closest parking is in the disc golf course parking lot and the central parking lot. Park officials ask that participants do not sled toward the ponds, as they do not allow anyone on the ice for safety reasons.
They do install straw bales in front of a couple of trees in case someone gets way off course. W.S. Gibbs Memorial Park is operated by Hendricks County Parks & Recreation and is open from dawn to dusk daily.
Stay Updated!
Sign up to receive the Weekly Insider or Monthly Planner newsletters for events, things to do, discounts, insider info and more!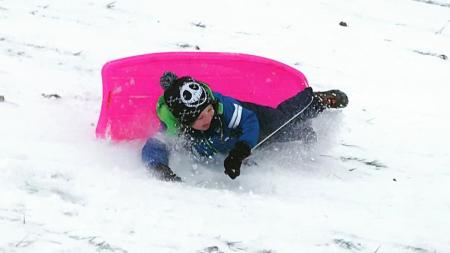 Located near the basketball courts in the upper level of the park, this hill is great for sledding as it is steep and fast.
It can be a bit dangerous if you aren't careful, however, with obstacles like trees and fences.
Children, of course, love it for all of the above reasons.
This particular hill even created the most reminiscing from some of our Facebook fans who have fond memories of sledding there as children.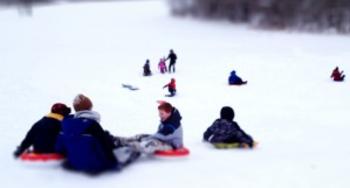 Bible Church's hills in Brownsburg have been my family's go-to when snow hits the area. This property has a couple of different spots that are perfect for sledding with the church and its parking lot in between.
In my most recent visit, I saw a combination of snowboarding and traditional sledding in two different areas on the property.
This year the church had to do drainage work to their property on the largest hill. Due to this obstacle, the church has planted bushes around the area and plans to place bales of hay around the rock work, as well.
Honorable Mention: Ellis Park, Danville​

I'm told this hill on the back side of the park near the Gill Family Aquatic Center used to be better before basketball courts were added to the park in 1996. Still, this hill, which has been a local attraction for years, seems to have plenty going for it.
It is steep and the obstacles are minimal. On my recent visit, I noticed that some hay bales were added in front of a tree and a couple of the basketball poles providing sledders with a little protection.
When snow hits the area, bundle up in your snow gear, grab your sled and head out to hit the hills of Hendricks County for winter snow fun.