After being engaged for several months, Richard and I have learned a lot about creating our perfect wedding and wedding reception. In an earlier post, I shared our
Top 10 Tips on Planning a Wedding
. Now I want to share our unique wedding reception ideas.
Pick the Right Location for your Theme
Since we are doing a destination wedding in the Caribbean, we want to bring that same island vibe back to our wedding in Indiana. Our reception will have a beach theme, and we found the
Blanton House
in Danville, Indiana, is the perfect location for us. The reception will mainly be outside but guests will have the option to sneak into the historic house to cool off. With a summer wedding in Indiana, it likely will be a warm evening. Guests will also be able to spread out as the location is surrounded by woods, has an expansive grassy area dotted with benches and a gazebo and has a large tent off the side of the house.
Added Bonus: A reception at the Blanton House is very budget friendly. The cost of the facility is reasonable, you can hold both the ceremony and reception at the same location and you are able to bring in your own catering.
Caricaturist
In the past few years, photo booths have become a trend at receptions. They are a cool way to create a lasting memory for your guests. I have even seen couples turn them into a guest book, having guests place a copy of their photo strip in a book and write a short note next to the photos. When I started planning my wedding I first thought about doing a photo booth but wanted to do something a little different. When I heard that
EssexArt ABC
will do caricatures of guests at events, I knew that I wanted this for my reception. John (the owner and artist) will come to our reception and draw caricatures of our guests. We are using the photos as our wedding favors. All guests will get to take their photo home with them and have a great memory of our reception. Plus, caricatures are just fun.
Added Bonus: The caricatures will be drawn on an 11 x 17 piece of paper. John will create a backdrop on this sheet that includes information on your wedding as well as a background theme. With our beach theme, we will have a palm tree with a bride and groom kissing, our wedding date and our names.
Welcome bags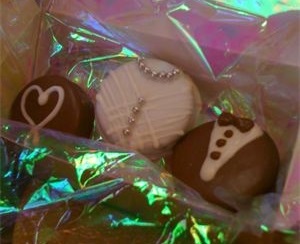 I have several guests coming from out of town so a good portion of my guests will be staying overnight. Each of my guests will receive a welcome bag at the hotel with information on the county and a few goodies from local shops. It gives me the opportunity to help local businesses and show the guests all of the local items that I love. One of my personal favorites that I am ordering for the welcome bags are decorated chocolates from
Confection Delights
. They are not only cute but delicious.
Added Bonus: Visit Hendricks County will supply welcome bags for your out-of-town guests that includes information on the area and drop it off at the Hendricks County Lodging Facility where your guests will stay. You can also drop other items off that you would like to add to the bags and they would be happy to include the items in the welcome bags.
iPhone Photography Lessons
I recently heard local photographer and artist,
Lynne Medsker
, is offering classes for bridal parties that will teach your bridesmaids how to take great photos with their iPhones. You will of course have a photographer capturing the story of your day, but think of how great it would be to catch your big day from the point of view of the people that know you best, your bridesmaids. Catching your wedding day from different points of view is always a great idea but making sure the photos turn out is a must. She will teach them everything from composition, lighting and easy ways to take great photos from their smartphone.
Added Bonus: If you have a tech savvy group, use a hash tag on Instagram or Twitter so everyone can upload and access the photos taken throughout the evening (e.g. #JonesWedding).
Learn how Visit Hendricks County can help plan your wedding with their complimentary services by contacting Kara at
Kara@TourHendricksCounty.com
and find everything you will need to plan the perfect wedding in our
Bridal Services Guide
.