Fall is a great time to visit Hendricks County. As you plan your visit, don't forget about shopping. I love to decorate my house for fall, and I recently stopped in a few shops around the county in search of unique fall décor. Here are five suggestions on where to shop, but these are just a few of the many great places in Hendricks County.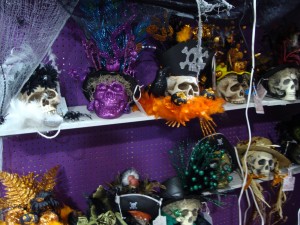 Gizmo's Galleria
– This flea market/craft mall is a great place to find unique items in Brownsburg. I saw great items for fall and several Halloween items. The great thing about Gizmo's is that you never know what you will find from one visit to the next. By the way, if you want to get a jump on your Christmas décor, there is a booth already full of Christmas items.  Gizmo's is located at 1630 E. Northfield Drive in Brownsburg. Hours: 10 a.m.-7 p.m., Tuesday-Saturday and 10 a.m.-6 p.m., Sunday.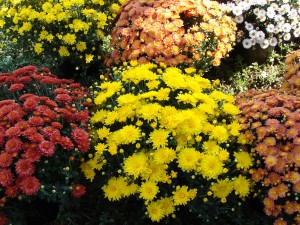 Beasley's Orchard & Gardens
– This is an attraction you must visit in the fall, but while you are there shopping for apples or enjoying the annual Heartland Apple Festival, pay attention to the traditional fall décor. This is a great place for pumpkins, mums and gourds. I love mums, and I think they have gorgeous ones every year. Beasley's is located at 2304 E. Main St. in Danville. Hours: 9 a.m.-6 p.m., Monday­­-Saturday and noon-6 p.m., Sunday.
Frazee Gardens
– Frazee is much more than just a garden shop. Of course you can get gorgeous mums and pumpkins, but you can also find unique décor items in their gift shop. Frazee Gardens is at 3480 N. Ind. 267 in Brownsburg. Hours: 10 a.m.-6 p.m., Monday-Friday,  10 a.m.-4 p.m., Saturday and noon-4 p.m., Sunday.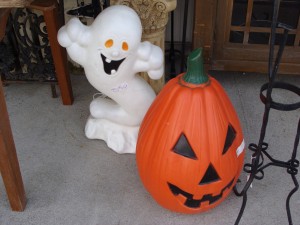 Gilley's Antique Mall
– Give your fall décor an antique twist. This mall is large, so you will want to plan plenty of time to browse through the booths. I found some great pieces while I was there. It's also a great place to find pieces to help you create your Pinterest-inspired creations. Gilley's is located at 5789 E. U.S. 40 in Plainfield. Hours: 10 a.m.-5 p.m., seven days a week.
Flowers & Treasures
– You will always find unique items in this Pittsboro shop. If you want a fresh flower display, they can make a bouquet that is specific to your taste. But they have more than just flowers. They also have antique, repurposed and handcrafted items. If you see something you like, you'll want to pick it up because the inventory changes often. You will find Flowers & Treasures at 2 E. Main St. in Pittsboro. Hours: 10 a.m.-5 p.m., Monday-Friday and 9 a.m.-2 p.m., Saturday. I hope you have a great time shopping this fall in Hendricks County!