When I was a kid, I always looked forward to the time during the holidays when my parents would take us for a drive to see the town's Christmas lights. We especially sought out displays where enterprising homeowners had toiled for days to bedeck their halls. Over the years, more and more public light displays have begun to rival those of our neighbors. This list of sites in
Hendricks County
should get you started: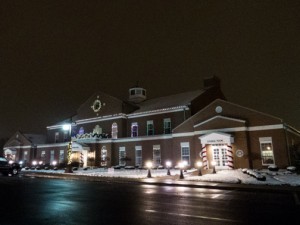 Brownsburg Town Hall:
The light display at the Brownsburg Town Hall is synchronized to music that you can play through your car radio. It's sure to get you in the holiday spirit!
Tip:
Park in the eastern or southern areas of the parking lot for the best radio reception. I had some trouble picking up the signal in the northern end of the lot.
Hummel Park in Plainfield
: As Ericka recently highlighted in her post,
Holiday Family Fun Experiences for $5 or Less
, Plainfield's Hummel Park has a light display that is free to view.
Danville's Ellis Park:
Danville's Ellis Park displays its annual
Winterland
through Dec. 24. You can drive through for $8 (or
$5 with this coupon on their website
)
Danville's Christmas on the Square:
Each year, the
town of Danville
stretches a canopy of lights from the courthouse to each side of the square. It's simple, classy, and beautiful.
Bonus:
The shops around the square this year are participating in a Storybook Window Display that's sure to warm your heart and bring a smile to your face.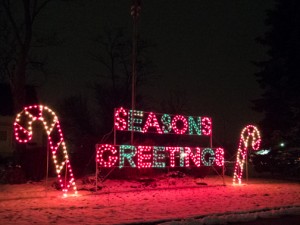 Pittsboro's Scamahorn Park:
Scamahorn Park in downtown Pittsboro is displaying its annual light show this month. The entrance to the park is on U.S. 136 just east of the Maple Street intersection. And of course, take a driving tour of the county and see the displays at the homes of our friends and neighbors. But those locations change every year. Feel free though to share your favorite home light shows that rival
Clark Griswold
this year in the comments section below.