Throughout our years as wedding photographers, we have seen a lot. We've seen a lot of beautiful; we've seen some surprises; and we've seen a lot of joy.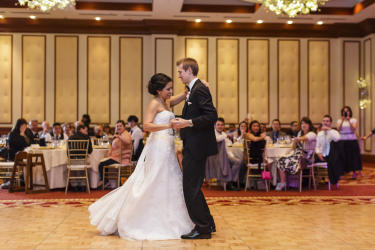 Even though each day is unique, there are threads of commonality that are woven through each wedding day. I've compiled a list of 5 tips that we've found to be common among fantastic weddings. So, if you find yourself in the wedding planning process, I would encourage you to take a look at these to be sure you are getting the most out of your day. 
1. Create a Budget and Stick to It 
While it is a big deal and we are all for having everything perfect on your wedding day, it's so easy to get carried away when the excitement of planning is in full force. No matter what your budget is, just keep everything in perspective and make sure you don't make any decisions that will haunt you after the festivities have come to an end. Visit Hendricks County has a host of complimentary wedding services, which could also help you stay under your budget.
2. Find a Venue You Love 
Your venue will be the backdrop for everything from your pictures to your guests' experiences, so choosing the right one is critical. If you are on a budget, remember, you can find budget venues that are beautiful as well. If you are still looking for that perfect location, check out some local Hendricks County venues that might suit your style. 
3. Don't Get Too Hung Up on the Details
Concentrate on the big picture. We often see so many couples spend so much time and energy on little aspects of the day that no one is going to notice anyway....and how many times have you kept the little trinket-y wedding favor thing from a wedding you attended?
4. Ask Your Vendors Lots of Questions
You've hired a team of experienced vendors because they are just that...experienced. Take advantage of the knowledge at your disposal. It's mutually beneficial for everyone, and they would love to help you. 
5. Take Time to Enjoy the Moment
It's your WEDDING DAY! Take a moment at some point in the day to just stop, reflect and think about how special this day is. It'll be over before you know it.