The Beehive is one of my favorite restaurants in Hendricks County.
Located in downtown Danville, the cozy, locally-owned cafe, offers delicious coffee, sandwiches and much more.
Here are just five reasons why I love The Beehive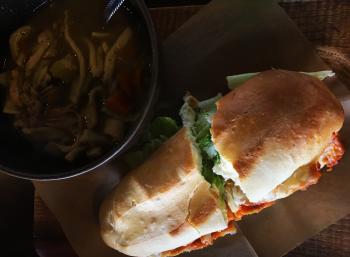 :
The Food
I've been to The Beehive several times for breakfast and lunch, and it never disappoints. The Beehive offers baked goods made in store like muffins and breakfast breads and even build-your-own breakfast sandwiches, oatmeal and more.
Most recently, my husband, daughter and I enjoyed lunch at The Beehive. I chose the chicken and artichoke sandwich with a side of chips, and my husband got the buffalo chicken sandwich with a side of chicken noodle soup. My daughter got the grilled cheese with a side of fruit salad and some organic apple juice.
My sandwich came on French bread and was enormous. It had full, cooked artichokes on it with provolone, oregano and aoili. It was amazing!
It's easy to tell the food at The Beehive is locally sourced and homemade. It tastes just like if we were eating at home (if I were a much better cook)! Of course, I was tempted to try the desserts, especially the do-si-do cake inspired by the girl scout cookie, but I resisted this time. Next visit I will have to treat myself.
For a full menu, click here.
The Drinks
The Beehive offers some yummy espresso drinks like the Nutella latte and honeybean latte, as well as house brewed coffee from Jameson Coffee Company out of Greencastle. In addition, The Beehive offers tea, fountain drinks and smoothies.
What some might find surprising is The Beehive also serves Sun King beer as well as a selection of 14 different wines. Visitors are invited to enjoy wine by the glass or start a bottle at the store and take the rest home.
The Market
The Beehive carries a selection of locally-sourced grocery items such as honey (of course), beef, eggs, jam and more. Owner Betsy Bassett said she works with local farmers and also a distributor that specializes in local Indiana goods to obtain the grocery items for the market. The beef and pork comes from Bassett Farms in Parke County.
The Gifts
Bassett also works with local vendors to stock the market with handmade jewelry, artwork and more. It even just became a new member of the Rural Routes to Main Street Cultural Trail.
The Beehive displays lots of great items. At Christmas time, I was able to find two beautiful bracelets for my mom and future sister-in-law.
The Casseroles
Don't feel like making dinner or do you know a family in need of a warm meal? The Beehive offers a weekly casserole that can be picked up on Tuesdays on a first-come, first-served basis.
Casseroles in the rotation include lasagna, three cheese baked ziti, chicken & wild rice, chicken alfredo, chicken & noodle, bacon cheeseburger and chicken enchilada. Check The Beehive's Facebook page to see which casserole is being served this week.
The Beehive
Address: 55 E. Main St., Danville, IN Phone: (317) 718-8470 Hours: Monday-Friday 7 a.m.-9 p.m.; Saturday 9 a.m.-9 p.m.; Sunday 9 a.m.-7 p.m.