My little family and I love the typical Christmas traditions: driving around to look at lights, setting up our tree, decorating Christmas cookies, etc. This weekend, we decided to try something new. We took our kids to check out Penguin Park at Washington Township Park in Avon, Indiana.
It was super cute, affordable and definitely helped us get into the Christmas spirit!
You may remember last year Washington Township Park featured bumper boats. While they sadly are gone, the new Penguin Park is worth a visit, and here are the top five reasons why:
1. Ice skating
I'll be honest. This is a tad misleading but not necessarily in a bad way. We were expecting just that: ice. But we found that the "ice" was actually plastic, as were the blades on the ice skates. 
However, the concept was still the same, and it turns out, skating around on plastic is about the same as skating around on ice. It might even be safer.
It didn't take my kids long to acclimate, and within no time, they were zipping around on the "ice." They are ages 9 and 5 and had a fantastic time. The park even had skate mates available for those who needed a little more help and support.
Tickets are $8 (skates included), and there are 5-punch skating passes available for $32. We ordered our tickets ahead of time online and signed waivers online. I walked right up to get our wristbands at the window, got my wristbands right away and got to skating. It saved us a lot of time.
Spectators and children 3 and under are free.
2. Concessions
Nothing says Christmastime like a cup of hot chocolate. The concession stand has some excellent choices. There are hot drinks, like coffee, hot chocolate and peppermint tea, as well as cold beverages such as water and Pepsi products.
They also boast treats from Marsha's Specialty Desserts, such as cookies, cake pops and brownies, peppermint bark, caramel corn and candy.
3. Santa Claus & Lights
While I don't believe Santa is guaranteed at every open skate, he will be at a few. Check the Open Skate Penguin Park Facebook page for event times.
As I was checking us in, my kids walked right up to Santa Claus and Mrs. Claus, and they chatted for awhile as I got wristbands and skates. Later, as we skated, Santa cheered on our kids and waved as they skated by. It was pretty sweet.
There are Christmas lights and decorations all around the rink. I am sure it feels extra festive in the evenings!
4. The Market
The first three Saturdays of December, Penguin Park will host The Market, which offers all things Christmas!
The Boy Scouts will sell fresh Christmas trees. Santa is available from 5:30 to 7:30 p.m. Silly Safari will feature an elf and reindeer show, and of course free horse and carriage rides. There will also be a North Pole mail box, face painting and holiday craft vendors.
Don't miss this amazing Saturday Christmas events! There's ice skating, igloos, holiday treats, shopping and Santa, his helpers and reindeer, too.
Stay tuned for future events at Penguin Park, such as Skate Warz (Nerf Guns provided!) and movie nights in the igloos!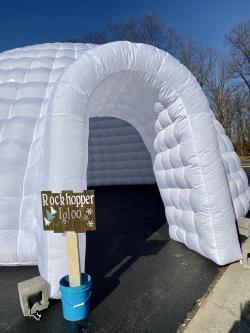 5. Igloo Rental
There are three igloos behind the rink that are available to rent. Celebrate your next family Christmas, birthday or even a ladies' night out in an igloo!
They are $100 per time slot, which isn't much if you split the cost. These are heated, come with folding tables and chairs inside, and have fire pits right outside their entrances.  Electrical outlets are available, and up to 40 people can fit inside!
You could even consider renting an igloo for the winter birthdays in your family! For $200, you can invite 10 kids, use an igloo, go ice skating, get pizza, get drinks, get a cake and….the best part…they clean up!
Check the website for reservation information and time slot availability.
While we have already been, I already want to go back to Penguin Park. My kids have been begging, but they won't need to twist my arm. Hope to see you out there!
Stay up to date on all the latest at the new Penguin Park by checking out Washington Township Park's website and Facebook page.