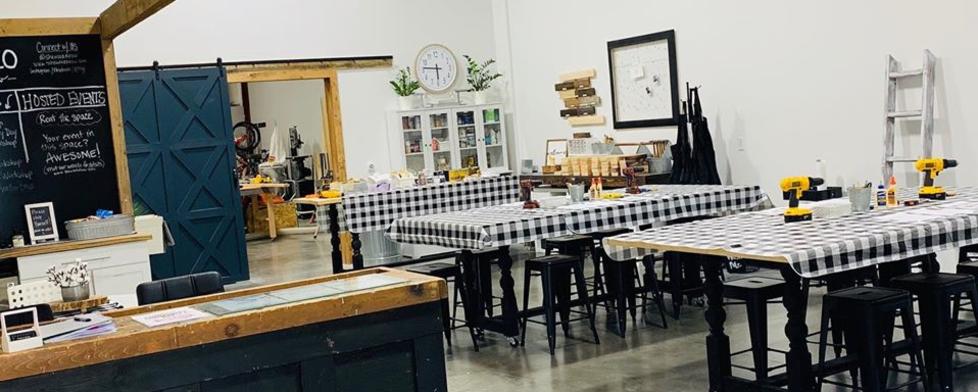 Mary Perrin loves to create.
Her wood shop, She Wood Know, opened this past July and is nestled off Northfield Drive in Brownsburg, Indiana, behind Hoosier Trainer.
Her business is multi-faceted, which is what makes it so interesting and unique. It's her wood shop where she creates custom pieces for clients, and it also boasts a studio in front where she invites the public to create as well.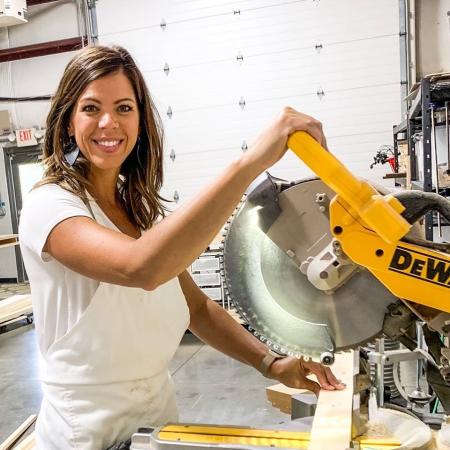 I've been to Mary's shop before, and it's as warm and cozy as a coffee shop but practical and spacious as a well-equipped wood shop.
The front area features the creative studio, furnished with huge wooden tables, cabinets of tools and materials and finished products. There's a little bar area with coffee, snacks and drinks with sweet little signs that say, Please help yourself!
The workshop in the back houses all her power tools and larger materials. This is where she creates her custom pieces.
There are so many aspects to this awesome business that I broke it down for you. I think you'll find there's a little something for everyone here.
1. Custom Pieces
Mary never dreamed she'd own a wood shop, let alone create custom pieces for clients.
The idea came when she and her husband built a house for their family that includes three kids. She couldn't find the exact pub table she wanted for their basement, so with a little ingenuity and enthusiasm, she made one herself. Immediately, she was hooked and began looking around the house for other projects she could create.
Word spread, and she began creating pieces for clients such as tables, desks, shelving, media centers and home décor. She became so good at it that anytime her friends needed to know how to make something, they'd say, Ask Mary. She would know.
And She Wood Know was born.
2. Workshops
Mary doesn't keep her talent to herself!
Check out her website for community workshops where she opens her space to the world, allowing others to use her materials and tools to create their own pieces. She teaches others how to read plans, use tools, and gain confidence to create something they've never made before.
Workshops have included a farmhouse tote, a DIY coffee rack, and even a scrunchie rack for a younger crowd. Pieces in the past have even included ideas by customers themselves.
3. Makers Space
What can we say, she's a sharer?
In addition to her talent, she shares her space too! Mary rents out the studio space in the front of her workshops for others. This includes artisans who want to teach classes, such as string art, floral arranging, painting, or other creative skills.
It's also available for showers, birthday parties and other special events. Renters can cater their own food and drinks.
4. Claim to Fame
She Wood Know has designed and created pieces for Rush Off Main in Brownsburg, including the pub table, bar shelves, hostess stand, a giant Connect 4 game and signs throughout the restaurant.
She even created the giant cube that hangs from the ceiling with hand-painted sports logos on each side.
5. DIY Creative Kits
Don't have the time to sign up for a workshop? Are you more comfortable working and experimenting at home? Pop in to her studio for a DIY Creative Kit.
Contained in one box, these kits have all the materials for one simple project which can be done at home. The kits make great gifts.
You can even plan a birthday party or get-together around creating a DIY project together. You can shop for the latest DIY kits at her online store here. I've already got my eye on the Tic Tac Toe set for my kids!
She Wood Know is such a unique place and a great addition to all the DIY shops we have in Hendricks County. There's really nothing like it, so whatever your bent is…whether it's getting together with your friends, working solo, discovering new talents at home, or finding that perfect piece for your house…She Wood Know has what you need!
You can contact Mary by visiting her website or staying up to date on workshops and events on her Facebook and Instagram pages.