It's a few weeks into the new year and hopefully everyone is still on track for accomplishing those 2020 health and fitness goals! Ladies, now that goals are set and workouts have started, it's important to find high-quality athletic wear that is supportive, form-flattering and comfortable.
But there is no need to search big box stores or travel outside of Hendricks County, Indiana.
Core Threads Athleisure Boutique, 311 E. Main St., in Brownsburg has you covered for all your workout clothes or more specifically your athleisure wear needs.
What is Athleisure?
Athleisure is a style of clothing primarily worn during athletic activities but that can double for other everyday casual or social settings.
Athleisure wear is becoming a bigger part of people's everyday wardrobes, which is convenient for those busy days that you need to squeeze in a workout.  For on-the-go women, workout attire that also can be worn running errands or taking kids to practices is necessary.
Core Threads History
Amanda Gatlin and Amy Farmer, busy moms and co-owners of Core Threads Athleisure Boutique, can definitely relate. 
Not only do Amanda and Amy understand their customers' needs, they are both super passionate about health and wellness and really enjoy fashion. They even worked together previously selling high-end, women's casual clothing.
After that job, Amy came up with the idea of opening an athleisure boutique after spending a day looking for high-quality workout pants and coming up empty handed.
She was forced to drive to a shopping area about 45 minutes away. On the drive there, she came up with the concept of Core Threads. However, she didn't want to start this venture on her own. She pitched the idea to Amanda, who loved it and was all in!
5 Reasons to Visit Core Threads Athleisure Boutique
1. Convenience
The boutique is located right on Main Street, just east of Green Street. It's open 10 a.m.-6 p.m. on Thursdays and Fridays and 10 a.m.-4 p.m. on Saturdays.
An online boutique is also available and almost everything in the store is listed there. 
2. Leggings ​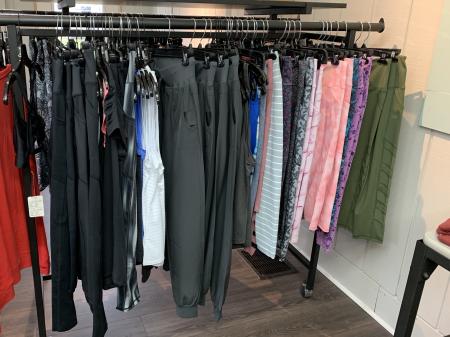 Any guess as to their most popular item?
Crazy, soft material that flatters ALL body types is how Amy describes their leggings. Most of them are high-waisted, which helps with support, coverage of hip areas and comfort.
A few other details caught my eye, such as deep pockets, fast drying fabric and fun prints that hide sweat marks.
The online boutique offers great descriptions of the all the leggings offered. 
3. High-Quality Materials
Descriptions of their athleisure wear include fast drying, stretchy, form-fitted, form-flattering, supportive and comfortable.
All of their clothing is perfect for all types of workouts or running errands around town.
4. Variety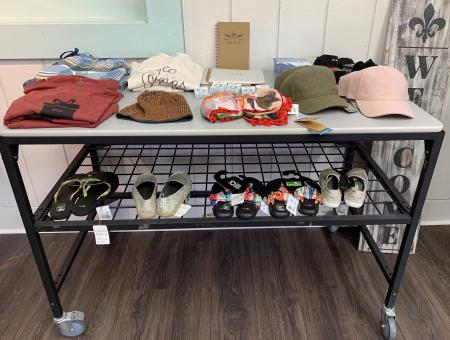 It's not just leggings. Other athleisure wear includes tops, shorts/skirts/skorts, bras, jackets/sweatshirts/sweaters, dresses and swimwear.
We can't forget about workout accessories! Water bottles, Goodr sunglasses, Teleties hair ties, 47 Design Co. headbands, hats and more are available in store and online.
To keep things fresh, they try to have shipments of new arrivals at least twice a month. 
5. Motivational/Unique Sayings on Shirts
One of the first things I noticed in the boutique was the unique sayings and pictures printed on their shirts and tank tops. Examples include Eye of the Tiger, Brave and Beautiful, I Will Not Be Shaken and Sunday Runday.
Many of these tops are muscle tanks, and not only do they look more feminine than in the past but they are perfect for layering! 
I've seen groups of fitness instructors and women that work out together wearing matching tops. It's a great way to add some fun while exercising and helps with motivation by feeling like part of a team.