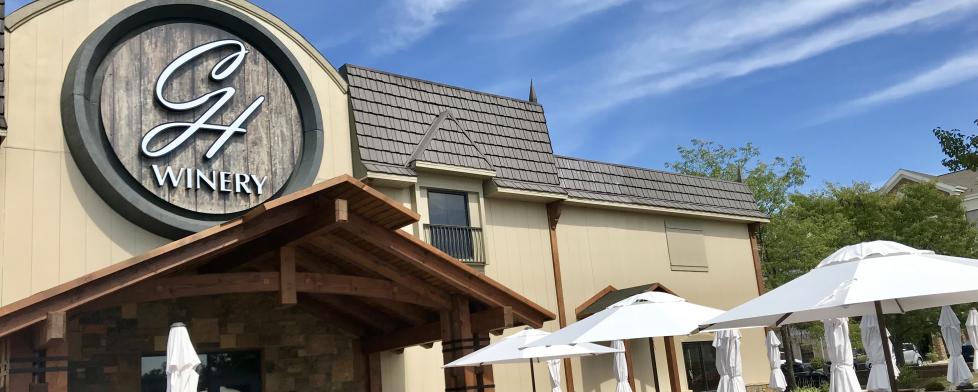 There aren't many jobs where you can go and get a wine tasting in the middle of the work day. But I'm here to say, as a blogger for Visit Hendricks County, it really is a nice perk. I was happy to be able to visit Country Heritage Winery in the heart of Plainfield just a few days after their grand opening, and I am thrilled to say they are the real deal.
Country Heritage Winery is actually in the building that used to house Chateau Thomas Winery at 6291 Cambridge Way in Plainfield, just off I-70. Country Heritage owners Jennifer and Jeremy Lutter opened their original location in Laotto, Indiana, in April 2011 and bought Chateau Thomas in March of 2019, re-opening the doors this past June.
All of their fruits come from the family-owned farm, Blueberry Acres, or other reputable fruit farms across the U.S. Their wine list is always changing because popular wines move to the reserve list and new releases are added. Country Heritage has created more than two dozen award-winning wines since opening their doors, including Indiana's Traminette of the Year in 2012. They were also named the 2019 Indiana Winery of the Year by the Indiana State Fair Wine Competition.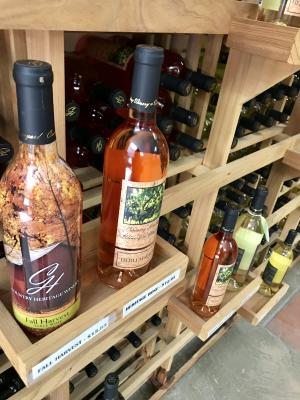 While you won't find fields of vineyards at their Plainfield location, you will find an expansive patio and cozy tasting room with a brand new beautiful bar.
Here are the top five reasons you need to grab a handful of friends and plan a visit to Country Heritage Winery in Plainfield.
Award-Winning Wine
Let's start with the most important part: the wine. The menu features wine for any palette and includes dry white, dry red, semi-sweet and sweet wines.
Their wine has received numerous "Best Of Class" Awards from the Indy International Wine Competition. A few of their most popular awarded wines are Marquette, a dry red with flavors of cherry; Vintner's Cuvee, another dry red blend of Cabernet Sauvignon and petite sirah; the Traminette, a semi-dry white with fruity notes; the Cranberry Riesling, a tart and sweet blend; and the Heritage Red, which is described as Concord Grape Jelly in a glass!  
You also can't forget the Jug Series, wines in homage to Dr. Thomas, who owned Chateau Thomas Winery and passed away earlier this year.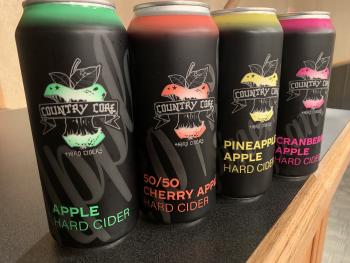 The menu also has hard ciders, with flavors apple, cranberry, cherry and pineapple, as well as a seasonal slushie, which currently is a sangria slushie.
Tastings
You can pop in anytime during open hours, but the manager suggests you call ahead if you have a group of six or more. Tastings include wine, of course, but also their hard ciders and seasonal slushies (which is what I did, and let me just say, the sangria slushie was absolutely perfect for a hot, early fall afternoon!)
For each tasting, two are complimentary and each additional tasting is only $1. While you can't bring in outside food, you can purchase cheese, crackers, cupcakes and other snacks, including their housemade snack mixes, in the tasting room to pair with your wine.
The winery also has an exclusive offer to visitors staying in a Hendricks County hotel. Visitors can receive five complimentary tastings when they show the staff their Hendricks County hotel room key.
You can also prepay for tokens, which you can then take home to use another time or at another location or even pass on to a friend.
Live Music
Every Friday and Saturday, the winery hosts live music, either on the beautiful outside patio or upstairs when the weather gets cold and nasty. Music has included Black Orchid, The Dukes and Chris and the Social Studs, among others.
You can check their full schedule online here.
The winery also features Zumba on Tuesday and Thursday evenings from 5:45 to 6:45 p.m. While I doubt I could do Zumba very well on a glass of wine, I was assured that the wine is in celebration of completing a Zumba workout, which makes a little more sense. The cost for this class is $10, which includes a glass of wine.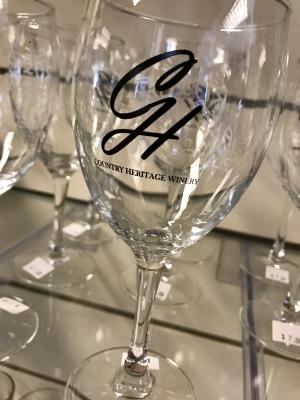 Merchandise
Wine glasses, coolers, dish towels, gift bags, coffee mugs and even socks can be purchased in the tasting room! The theme is, of course, wine, but these make great gifts for anyone on your list who loves to relax with a glass of wine.
Wine Club Rewards
For one flat registration fee, you can be a member of the Country Heritage Wine Club, which has quite a few perks, including being invited to private events at the winery. You get early access to seasonal and exclusive wines (which go fast), as well as a 20 percent discount on Wine Club Wednesdays.
Another great perk is five additional free tastings per visit, and a 15 percent discount on non-alcohol items any day of the week. Punch cards also allow you to keep track of your purchases so you can receive free merchandise, such as a travel cooler or fleece blanket.  If your hobby is "wine," this may be a consideration for you!
Jennifer and Jeremy Lutter's wine philosophy is: Ultimately, we wish to give you the same things we would want in a wine. It is our belief that great wine starts in the vineyard or field with quality grapes and fruit. 
I tasted it myself! The philosophy holds true! So plan a visit now.
You can stay up to date on new wines and events on their website and Facebook. Their hours are Sunday through Thursday from 11 a.m. to 7 p.m. and Fridays and Saturdays from 11 a.m. to 10 p.m.