I'm busy. All the time. Between work, meetings, family activities, youth sports, and everything else that daily life throws at us, I'm constantly on the run. Caffeine keeps my motor running through my hectic days, and coffee is a staple in my daily routine. I'm sure that I'm the only one on Earth like this, right?
No?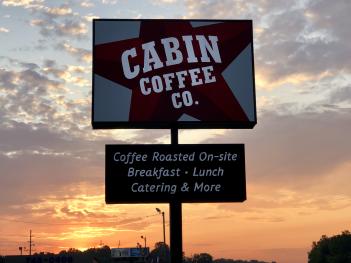 Well then you might be interested in a new coffee shop in Hendricks County, Indiana, called Cabin Coffee Company. It's located at the intersection of U.S. 36 and Old 36 on the western edge of Avon, just a stone's throw from Washington Township Park.
First Impression
I noticed that Cabin Coffee Company opened in late May, but I've been too busy to stop in until recently. I asked around about it, though, and my fellow blogger, Stephanie Porter, informed me that it's really good. "The vanilla latte is awesome," she said. "The croissant breakfast sandwich is good, too. A single order of biscuits and gravy were filling, and my daughter loves the berry smoothie and coffee cake."
Stephanie's recommendation was consistent with what I've heard from other friends, so my oldest daughter and I carved some time out of our busy schedules one morning before heading to her softball practice to grab a quick cup of joe and some food.
As soon as we entered Cabin Coffee Company, though, a transformation came over us. I see where the coffee shop gets its name. As my daughter observed, the interior of the restaurant looks a lot like cabins that we've vacationed in when we've gone to the mountains of Tennessee and Georgia. Something about a cabin just makes you slow down and relax a bit.
So Many Choices
It took us awhile to peruse the menu with a ton of drink options to choose from: an espresso bar with 9 choices, a wide variety of hot and cold coffee and chocolate drinks that can be modified to your liking by a large assortment of flavoring syrups, chai tea, Italian soda, smoothies, lattes, mochas, frappes and probably a lot of other drinks that I've already forgotten. You're going to have to check it out for yourself.
For food, we could choose from some different breakfast sandwiches, biscuits and gravy, bagels, scones, coffee cake and more. If you want to stop in for lunch, Cabin Coffee Company offers sandwiches and soups.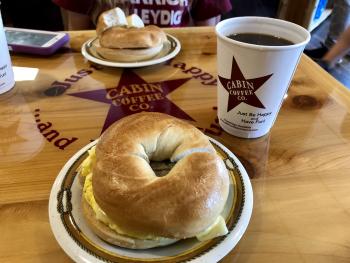 When we finally decided what we wanted, the friendly young woman working the counter took our order, made sure that she offered us all of the possible options, made sure she had our order correct and gave us a little chalkboard with our name on it to place on our table. Kind of a neat little personalized touch, rather than just a plastic number on a wire stand.
Comfortable, Relaxing Decor
As we waited, we looked around and noticed people of all ages coming together for breakfast and conversation. Several patrons were using laptops because the restaurant offers free wifi. That'd be pretty cool to bring my laptop in for a bit and get some work done over a cup of coffee in a relaxing setting, I thought to myself.
Others were just chatting about whatever people chat about over breakfast. Everyone looked comfortable, at peace, and enjoying themselves. The company's motto -- "Just be happy...and have fun!" -- was on each table, reminding us all to slow down a bit from time to time.
Great Food, Drinks...and Special Options
Just a few minutes later, our breakfast arrived. I went with a cup of Peruvian FTO (fair trade organic) coffee and the #1 breakfast sandwich -- egg, Monterey Jack cheese and sausage on a plain bagel. My daughter went for a hot chocolate (Ghirardelli white and dark chocolate with steamed milk, topped with whipped cream) and a plain bagel. Both of us enjoyed our breakfasts.
My youngest daughter has some food allergies, including an allergy to dairy, so I wondered aloud if this place has any dairy-free options. My oldest whipped out her phone and immediately located an interactive allergen and nutrition customizer, entered her sister's allergies, and blammo! All of the options that my youngest can choose from at Cabin Coffee Company! They've got you covered, too, if you're vegetarian or vegan. Really cool! One of my coworkers is vegan, so I'll have to mention this to her.
Looking for a to-go order? Catering? Some fresh-roasted Cabin Coffee Company beans to brew yourself at home or at work?
They can do all of that.
Free Conference Room
It was time to head to practice, so we grabbed our drinks and headed toward the door. On our way, a conference room caught my eye. The room can seat up to 30 people, it has a 65-inch TV and free wifi, the room can be closed off to the rest of the restaurant, and it's free to reserve and use (except for sales purposes)!
If you don't need the entire room, you can reserve tables that seat eight people each. This would be a perfect setting for work meetings, civic club meetings and whatever else you might need some space for!
Cabin Coffee Company
(317) 563-3060
Open 6 a.m. to 6 p.m., Monday-Friday; 7 a.m. to 6 p.m. on Saturdays; closed on Sundays
Major credit cards accepted
Free wifi
Free conference room available for reservation