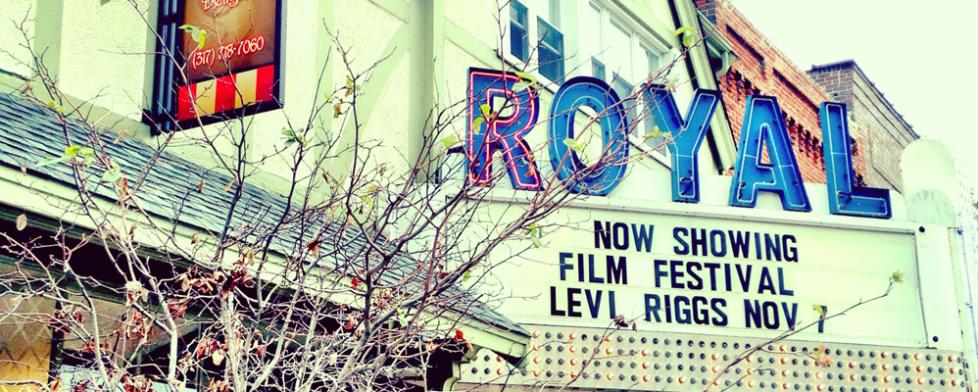 In about a week, 47 independent short films will be shown on the big screen at the Royal Theater during the 4th Annual Indiana Short Film Festival.
Having worked on the festival's committee the past four years, I couldn't have anticipated how quickly it would grow. We knew it was a great event, but for it to be recognized as the 4th Best Short Film Festival in North America by AudienceAwards.com after last year's festivities helped lend credence to our beliefs. Then, when a record 217 films were submitted from all over the U.S. and as far away as Spain, Belgium, India and Argentina this year, the momentum kept building.
This year's lineup includes films that last anywhere from just under 2 minutes to 37 minutes. I have had a chance to see a few of the movies, and I can attest that there are several you won't want to miss. In fact, I have a special surprise for our readers: FREE PASSES to giveaway with instructions on how to enter at the end of this post.

For those of you who who don't win the free passes, a great bonus is that the price is extremely reasonable. Each series is $7 per person, or you can purchase the weekend pass for $35 that covers the entire weekend including access to the VIP Filmmaker Meet and Greet. You can buy tickets at the Danville Public Library or online here. 
Here are my five things I think every 2014 attendee should know:
Craft beer and wine will be sold for the first time during the event after 6 p.m. both days.
At the end of each showing filmmakers, actors and directors in attendance step onto the stage and answer questions from the crowd.
The festival takes place in a historic theater so you are able to experience the art of independent filmmaking while taking in the nostalgia of a historic venue.
Viewers are encouraged to participate by voting on their favorite films. At the end of the festival, the votes will be tallied and audience awards will be given to the top films. 
Each series lasts around 90 minutes so you will be able to see anywhere from 6 to 10 movies during each showing.
This year's showings 
Find which showing you should attend at this year's festival by clicking on the series below. Better yet, get the weekend pass so you can attend every series and the VIP Filmmaker Meet and Greet during the festival. 
Friday, October 10
Saturday, October 11
As a special treat, the festival is featuring two 'Hoosiers Only' showings on Sunday. These admission-free screenings will not be judged as part of the competition but instead will give these Indiana filmmakers an opportunity to meet each other while introducing local audiences to the talent in their own backyards.


Sunday, October 12
Giveaway
We have 2 sets of Weekend Passes that we will award to two readers who comment below. To enter the drawing, tell us why you are excited to attend the short film festival. You have until 11:59 p.m., Oct. 5 to enter, and the winners will be notified by e-mail.