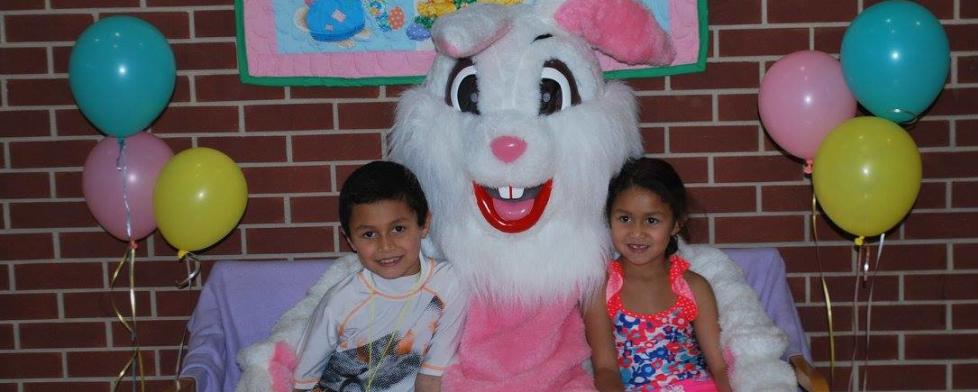 Easter is April 1, and with it comes a wide variety of opportunities to hunt for Easter eggs in Hendricks County, Indiana.
In addition to many traditional egg hunts, there are some unique activities taking place around the county that involve diving underwater for eggs, finding camouflaged eggs in the woods, petting animals, racing rubber ducks and accommodating special needs.
Eggstravaganza
Plainfield Parks & Recreation hosts its annual Easter Eggstravaganza underwater egg hunt at the Splash Island Indoor Aquatic Center this Saturday, March 24, beginning at 10 a.m. Have the kids' photo taken with the Easter Bunny and complete a craft before the underwater hunt begins at 11 a.m.
The event offers three separate times for different age groups:
5 & under: 11 to 11:10 a.m.
6 to 10: 11:15 to 11:25 a.m.
11 and up: 11:30 to 11:40 a.m.
This event is free to attend, and parents are encouraged to bring their own cameras.
Downtown Danville Merchants Easter Egg Hunt
From March 26-30, the Downtown Danville Merchants will hide a few Easter eggs around the historic Hendricks County Courthouse Square each night. The eggs will contain coupons or special offers from various merchants. What a fun way to discover unique items that can be found in Downtown Danville!
Here are some of the businesses that I suggest exploring, whether you have an egg coupon for them or not:
Eggstravaganza at McCloud Nature Park
Another unique egg hunt takes place at McCloud Nature Park outside of North Salem on March 31 from 11 a.m. to 3 p.m.
Hendricks County Parks & Recreation's naturalists will hide camouflaged eggs stuffed with clues on two different trails with two different difficulty levels during their Eggstravaganza event.
Find the eggs, solve the clues and bring your completed scavenger hunt sheet into the Nature Center to win a prize!
This event is free to attend.
Easter Egg Hunt and Rubber Ducky Race at Ellis Park
The Kiwanis Club of Danville and Danville Parks & Recreation host their annual Easter egg hunt at Ellis Park in Danville on March 31 for kids ages 2-9. Photos with the Easter Bunny begin at 10:30 a.m. in the Train Station, and egg hunts for three different age groups begin at 11 a.m. There is also a separate egg hunt for kids with special needs.
Immediately after the egg hunt, race a rubber ducky down the creek at Ellis Park! Ducks are available for purchase in advance at the Danville Athletic Center located at 49 N. Wayne St. for $1 each. Decorate your duck and then see if it wins a prize!
This event is free to attend.
Easter Egg Hunt at the Hendricks Regional Health YMCA
Hosted by Echo Church, this Easter activity also takes place on March 31 but from 1 to 3 p.m. at the Hendricks Regional Health YMCA in Avon and features egg hunts, a petting zoo, pony rides and giveaways that include tickets to pro sports events.
This event is free to attend. Click here to register in order to double your chances to win a giveaway!
Even More Easter Egg Hunts
For a complete list of Easter activities in Hendricks County, check out the wonderful list put together by Macaroni Kid - Hendricks by clicking here.
Happy Easter from all of us at Visit Hendricks County!