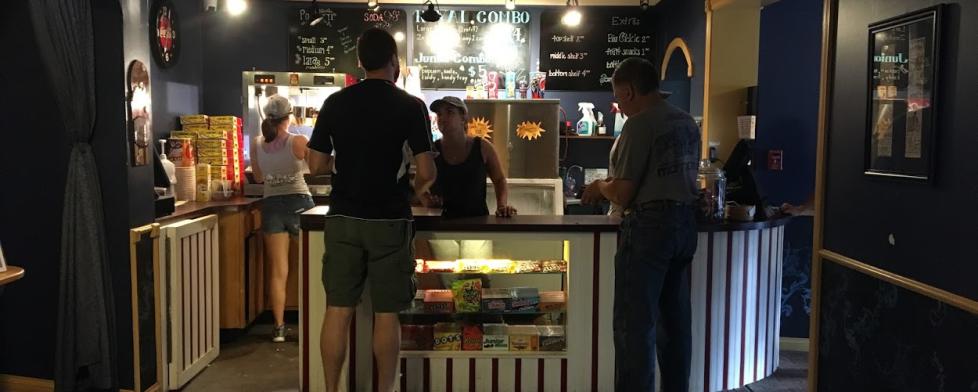 In less than a week, 2019 will be upon us! Whether you're celebrating a wonderful 2018, thanking the stars for the end of 2018 and a fresh start in 2019, or somewhere in between, we have some great options here in Hendricks County, Indiana, to spend New Year's Eve. Here are five of them.
Roll into the New Year at Hot Skates
Who's up for some roller skating? Hot Skates in Avon has a couple of options for families on Dec. 31. For those with small children or early bed times, try the New Year's Eve Skate from 11 a.m. to 4 p.m. Admission is $9 a person and skate rental is $4. You'll get a slice of pizza and a small soda while you're there. They'll also give away prizes throughout the day and have a balloon drop at 3 p.m.
For the night owls, Hot Skates is hosting another New Year's Eve Skate from 7 p.m. to 3 a.m. Admission is $19.99 in advance ($25 at the door), and they'll provide you with skate rental, unlimited pizza until 9:30 p.m., prizes and giveaways and a balloon drop at midnight.
For more information, click here.
A Star is Born at the Royal Theater
Court House Grounds is hosting a New Year's Eve celebration at the Royal Theater, located on the east side of the historic Hendricks County Courthouse Square in Danville, beginning at 2 p.m.
They will show four versions of the movie A Star is Born including the 1937 version starring Janet Gaynor and Fredric March, the 1954 version starring Judy Garland and James Mason, the 1976 version starring Barbra Streisand and Kris Kristofferson and the 2018 version starring Lady Gaga and Bradley Cooper.
Admission to this movie marathon is just $5 a person, and you get free refills on popcorn and sodas! There will be a hamburger buffet next door at Court House Grounds, and a stamped hand will allow you to take food in to the movies while you watch.
For more information, check out their Facebook event by clicking here.
Party Like the Gatsby with Chateau Thomas Winery
If you're looking for an elegant time on New Year's Eve, look no further than Chateau Thomas Winery in Plainfield during their "Party Like the Gatsby" New Year's Eve Celebration.
The full package of $350 per couple or $225 per individual secures you a hotel room at the neighboring Staybridge Suites, a cocktail reception, dinner and drinks at the winery, live music, a champagne toast at midnight and an appropriately-named Hair of the Dog buffet the next day from 11 a.m. to 1 p.m. Staybridge Suites is also offering late check-outs on Jan. 1.
For those who purchase the full package, you can check in to Staybridge Suites as early as 3 p.m., and the cocktail reception begins at 5 p.m. Chateau Thomas also offers lower-priced options that do not include the hotel or the buffet.
For more information, click here.
Bowl 'Em Over at Sunshine Bowling Center
A favorite annual New Year's Eve activity for our family is the New Year's Celebration at Sunshine Bowl in Brownsburg.
Start the party at 7 p.m. for $54.95, which gets you two hours of bowling (including cosmic bowling) for five people, a 12-inch two-topping pizza, a pitcher of soda, party favors and a countdown at about 9 p.m.
Or for $74.95, you can start the party at 10:30 p.m.
For more information, check out their Facebook event by clicking here.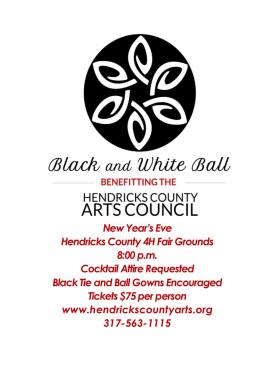 Support the Arts at the Black & White Ball
If climbing into your tuxedo or your best ball gown is your way of ringing in the new year, then the first annual Black & White Ball at the Hendricks County 4-H Fairgrounds in Danville is where you'll want to be.
For $75 a person, you can join the Hendricks County Arts Council at 8 p.m. on this New Year's Eve to walk the red carpet, enjoy a walking dinner by visiting several food-tasting stations, view displays of original art, dance to tunes spun by well-known DJ Philip Zeller and ring in the new year with a champagne toast.
Cocktail attire is requested, and ball gowns and tuxedos are encouraged! Proceeds benefit the Hendricks County Arts Council. For more information and to purchase tickets to the event, click here.
Happy New Year!
We hope to see you in Hendricks County on New Year's Eve! And whatever you do, be safe, use a designated driver and have fun! We'll see you in 2019.