So it's Valentine's week! Let the cheers or groans out! Truth is you either hate Valentine's Day or love it. I'm a believer that those who claim to hate it just don't fully grasp the greatness that it is...a day to celebrate love in all forms. Who says you have to celebrate only with your significant other? Today's blog post is about celebrating with your child, a niece, nephew, grandchild or any other special children in your life. Why not use this week to let them know just how loved they are? I've compiled a list of 5 special ways in Hendricks County to tell your little love just how much they mean to you: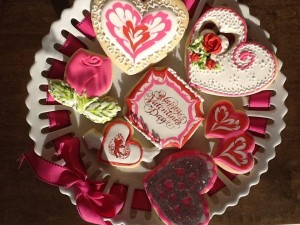 Make Their Day Sweet 
-- It's the little things in life when your a kid right? One of my daughters absolute favorite special treats is a trip to
Sweetheart Cupcakes
in Plainfield. This adorable little shop is the perfect spot for some one-on-one time with your little Valentine. Their selection is terrific and will have any child's eyes bulging looking at all the delicious treats. Special for Valentine's Day they will have: Molten Lava and Champagne & Strawberries cupcakes and Valentine's cookies along with several other yummy treats.
Get Creative 
-- Let the kids get creative while making a special craft and memory that you will cherish for years to come. Head to
UPaint Pottery Studio
in Plainfield this week to get the creative juices flowing! Best yet? They have special UPaint a Story times available this week and next to commemorate the holiday of love. At 1 p.m., Feb. 14, 10 a.m., Feb. 15  and 11:30 a.m., Feb. 20, enjoy this special story time when they will feature the book "The Day it Rained Hearts." This special event will feature story time, painting a piece of pottery that goes with the book and a snack. Cost is just $12 a painter. What a great little date for you and your little Valentine!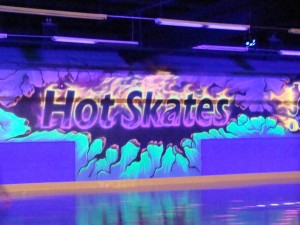 Show them your Moves 
-- Nothing says family fun quite like a night at the roller rink. A special night out to
Hot Skates
in Avon is sure to make your kids Valentine's Day a great one. Hot Skates was recently redone and is a clean and convenient location in Hendricks County.  So go ahead and bust out your sweat band and your Michael Jackson moves. The kids will love it, and you might just start a new Valentine's tradition.
Enjoy Some Quality Time
-- One of our favorite places for free, family entertainment, McCloud Nature Park in North Salem, will again have a free program this Saturday. The park is inviting families to bring in your own glass or plastic bowls, jars or vases to make an open or closed terrarium. Naturalists will provide instructions, baby plants and soil. They recommend that the activity is best for ages 6 and above.
Fancy it up a bit 
-- What kid doesn't like Chick-fil-A right? My daughter could seriously eat this stuff for every meal. So why not take them to one of their favorite locales for a special evening?
Plainfield Chick-fil-A
has worked hard to create a nice and memorable evening for guests on Valentine's evening. Enjoy a plated dinner, special dessert, flowers and horse & buggy ride. Cost is $25 per couple. Reservations must be submitted today, Feb. 11. These are just a few of the ideas to make your little Valentine feel special this year! I hope you enjoy your day of love and take the opportunity to let those in your life know just how special they are.