Every year I enjoy adding an ornament or two to our Christmas tree. I also love to give ornaments as gifts. This year though, I wanted to shop local and find handmade ornaments. So, I'm going to share with you unique ornaments I found in
Hendricks County
.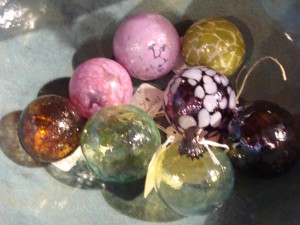 Artistic Designs Gallery
– At this Brownsburg gallery, you will find beautiful ornaments created by local artist Lisa Pelo. Pelo's studio, Hot Blown Glass, is located in Clayton. Artistic Designs is one of several local shops carrying Lisa's work. Her one-of-a-kind ornaments range from $15-$22. Artistic Designs is located at 124 E. Northfield Drive, Suite K, Brownsburg.
Tip:
If you can't get to Brownsburg, Bread Basket Cafe & Bakery in Danville also carries an assortment of Lisa's ornaments that can be found prominently displayed on top of their dessert case.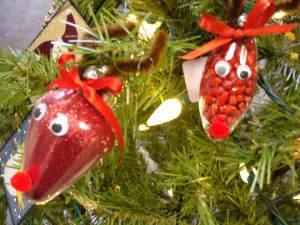 Finer Things
– This Brownsburg shop is a great place to find locally made products. I found a variety of ornaments. Finer Things carries glass ornaments from three different glass blowers that each have their own style. The glass ornaments range from $5-$20 and feature glass blowers, Lisa Pelo, Samma Parcels and Patty Klunzinger. I also found cute reindeer ornaments by Carolyn Parent for $4.50 and paper ornaments from Indiana Artisan Michele Heather Pollock. New items can be found at Finer Things all the time, so when you visit you may find more locally made ornaments. Finer Things is located at 1032 E. Main St. in Brownsburg.
Frazee Gardens
– I found more ornaments from Hot Blown Glass at this Brownsburg Nursery and Gift Shop for $15-$25. But I also found some new ornaments by Hendricks County resident Leslie Gray. Her ornaments range from $7-$12. Frazee Gardens is located at 3480 N. Ind. 267 in Brownsburg.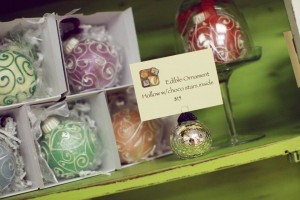 Confection Delights
– Here's a different twist on an ornament. It's edible. Stop by this chocolate shop on the Square in Danville for a hollow chocolate ornament filled with more chocolate. These edible ornaments are $15. Confection Delights is located at 57 S. Washington St. in Danville.
Gallery on the Square
– If you are looking for an ornament for a kid, Gallery on the Square in Danville has the perfect ornament for you. The Gallery is selling ornaments from Indiana artisan Jennifer Berger. She makes wool-felted animals, shapes, monsters and more. These ornaments range from $8-$24. Gallery on the Square is at 51 S. Washington St. in Danville.
FROGS
– Known for its fossils and rocks, this isn't the store you would normally expect to find ornaments, which is what is so amazing about Hendricks County and what you can find here if you just look. FROGS (Fossil Rock or Gemstone Store) in Pittsboro has glass ornaments filled with jewelry such as necklaces and bracelets, which I found to be a truly unexpected surprise. FROGS is located at 108 W. Main St. in Pittsboro. I hope you add an ornament from Hendricks County to your tree this year. I know I will. Merry Christmas!