I don't know about your experience, but I often find that small towns put on the best community events. And the tiny town of Coatesville in western Hendricks County, Indiana, is no exception as it hosts the 7th Annual Cruisin' in Coatesville Car Show and Street Fair from 7 a.m. to 2 p.m. on Saturday, July 20.
If you don't know much about Coatesville, this is the time to change that. Events like this always bring out the best
in a community, from volunteers to businesses to community connections. It must be working well because this event has grown over the years, featuring 26 cars in its first show seven years ago and nearing 100 for this year's show.
But don't take my word for it. Here are six reasons to put Cruisin' in Coatesville on your calendar:
1. Classic Cars 
So this one is a no-brainer. This event already has 70 cars preregistered for the show (with more expected to come) by people who take such great care with their classic, vintage and just plain cool cars! You get to spend the day checking them out for free.
Organizers will award prizes for the best in a number of categories (more on that later) so stick around to see the winners. The cost to enter a car is only $20.
Many of the cars will be exhibited by Hendricks County residents, but there are also some who travel from as far as Kentucky and Ohio to show off their pride and joy. You can even pay a little extra ($15) to get your photo taken with the lovely Indianapolis Colts Cheerleaders with your car from 7 to 9 a.m.
2. Delicious Food
Start the day off right with breakfast, prepared by volunteers with the Coatesville Downtown Revitalization Project from 7 to 9 a.m. in exchange for donations. This means you can just roll out of bed and head to Coatesville. You don't even need to have breakfast first.
Once you've let your breakfast settle as you browse cars, the grill will be manned by volunteers cooking up rib eyes, burgers, hot dogs and coney dogs all day. Local restaurants Dawnn's Diner and O'Knappys Kitchen, both offering some of the best comfort food in Hendricks County, also will be open. 
3. Shopping & Silent Auction
This event is one of the biggest days of the year for local businesses and restaurants. Come and find your favorite place in this small town by checking out the local food and fare. Local businesses such as Pam's Place (a salon), the Wedding Barn, Fleurs de Beausoliel (a flower shop) and Coatesville Main Street Sale will be open.
The event also features vendors selling items or simply offering giveaways.
The event also includes a silent auction with big ticket items such as 10 tickets to Disney World, a car care kit and a motorized BMW children's car.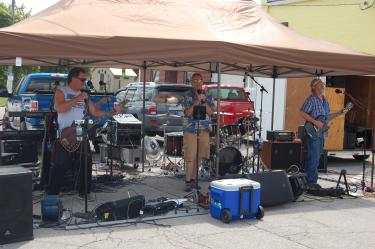 4. Entertainment
Between music and games, this day has you covered! Take a break and enjoy your lunch with some live music by Pack of Chihuahuas, which includes a mix of 70's and 80's rock. 
If you are a game lover, take part in Car Show Bingo or a Poker Walk. There is a new game featured this year that involves codes with a prize for the one who can crack the puzzle first. 
5. New Downtown Feature
One of the most exciting projects the CDRP is working on is transforming a building located in the middle of town from storage space to a 1950's retro gas station!
I personally can't wait to see this, and I love when small towns preserve and promote relics from the past. While this won't be a working gas station, a state grant will allow it to be a permanent fixture and crown jewel of the town.
6. Trophies
Clearly creativity and imagination reign in Coatesville because the trophies for the car show are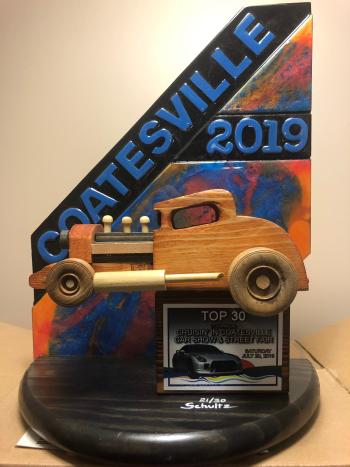 handmade by event organizer Steve Schultz. Over the past year, he has created 50 trophies to be handed out at the car show.
He comes up with the designs himself and creates them out of wood, relishing the meshing of art with the car world. No two trophies are alike. Trophies will be given for the Top 30 cars, Top 2 Cars, Top 2 Motorcycles, Top 2 Tractors, etc.  He donates all his time and materials. These trophies are a huge draw in the car world for participating in the car show.
All donations at Cruisin' in Coatesville benefit the Coatesville Downtown Revitalization Project. Schultz, who also serves as President of the CDRP, loves that this event changes the public perception of his beloved small town.
Many know Coatesville as the town that was destroyed in 1948 by a tornado that actually swept through on Good Friday that year, killing 20 people and injuring scores of others. Some even say the town is still trying to pick up the pieces.
The CDRP was developed to increase economic growth in Coatesville and promote positive community development. I'd say Cruisin' in Coatesville nails it!
Come participate in this free Coatesville event and enjoy all the perks of a street fair with the benefits of a small town! This is the perfect opportunity to wander off the beaten path and get to know a corner of our county a little better.