We are just a week away from Valentines Day, and
unlike my fellow blogger Eric
, I love Valentine's Day.
Yes, it is just a day, but it is a day to celebrate love, which is a wonderful thing. I think the reason I like a day like this so much is because it is a day to focus on the good. Today's blog on Treating Your Sweetie will focus on some fun activities and gifts in
Hendricks County
to show your significant other you are thinking of them. But before we get to the list, I wanted to share an opportunity for those of you who have kids. The Danville Community High School Key Club is hosting a Parents' Night Out from 6-10 p.m. Feb. 14 to raise money for different charities within our community. This is a perfect option for you parents who want to have a romantic evening without the kids as they enjoy a fun night of movies, games, snacks and more! For additional information or to reserve a spot for your kids, click
here
. On to my list:
Activities/Gifts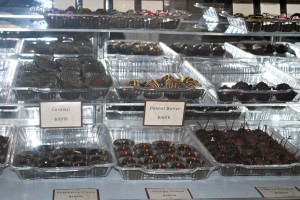 Chocolate Tasting -- How does a night of tasting chocolates sound to celebrate your love? Pretty good to me! Join in the fun at Confection Delights in Danville on Valentine's evening. The evening will open with catered hors d'oeuvres followed by an hour-long session discovering a variety of chocolates. Guests will enjoy a fun and educational chocolate activity and a gift to take home. Reservations are required by calling (317) 718-7060 or online by clicking here. Cost $57/couple and $30/single.
Sweets for Days -- Visit Sweetheart Cupcakes and find a flavor that is perfect for your sweetie. This cupcake shop in Plainfield has an amazing and fresh selection of delicious cupcakes. Nothing shows you care quite like some delicious, homemade cupcakes. Sweetheart Cupcakes is a cute little shop with a new location, 212 E. Main St., in the heart of Plainfield.
Laugh Out Loud- Laughter is some of the best medicine right? Why not create a fun date night around laughing about love? The Royal Theater of Danville presents Dave Dugan on Feb. 13 with his show entitled "Unlucky in Love." Raised locally, Dave moved to Hollywood and became a local at the world famous Comedy Store. He has also appeared numerous times on The Arsenio Hall Show, HBO, Comedy Central and VH-1. The show begins at 7:30 p.m. and is just $10. Click here to purchase your tickets.
Dining
For you traditionalists, here are some of my recommendations for Hendricks County dining options to celebrate Valentine's Day.
Chick-fil-A Valentines Dinner -- Enjoy a plated dinner, special dessert, flowers and a horse and buggy ride at the Plainfield Chick-fil-A. Cost is $25 per couple. Reservations are required by Feb. 11. Three lucky winners will get a free night's stay to use that evening at the Plainfield LaQuinta Inn & Suites in Plainfield.
Bread Basket Offers Thoughtful Choices -- Do something different this year and show the person you love just how much you care with a special trip to the Bread Basket Cafe & Bakery in Danville. This quaint restaurant has several offerings planned to make your Valentine planning easy. They will serve a special Valentine's lunch on Feb. 14 along with fresh flower bouquets and homemade cards. They will also have special baby cakes and sweetie pies available for purchase which are the perfect desserts for two!
Chateau Thomas Winery Formal Dinner -- Join Chateau Thomas Winery in Plainfield for an elegant plated five-course dinner in the Vineyard Room. This dinner will be $130 a couple. Want to make an evening of it? They will have a few overnight packages available, with King Suites at the Staybridge in Plainfield. Reservations are required by calling (317) 837-9463.
These are just a few of the great ways to show your sweetie this Valentine's Day how much they mean to you. Be on the look out in the coming days right here at All Access Hendricks County as I will share ways to celebrate Valentine's Day with your kiddos this year.