Fall is here! I love the weather, the colors and of course the festivals. One of my favorites and arguably the most popular is the
Heartland Apple Festival at Beasley's Orchard
in Danville, Ind.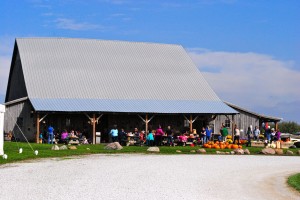 Visitors have two weekends to visit this festival now in its 27
th
year. The festival is October 5-6 and 12-13. If you never have been to the Heartland Apple Festival or even Beasley's, I have compiled seven reasons why you should visit Beasley's during one of these weekends.
Food and Drink – I will start off with the drink portion. If you have ever read any of my other blogs where I mention Beasley's, you know I'm a big fan of their award-winning apple cider. This alone is enough to get me to Beasley's. But on festival days you have a lot of options for food. Food options include hand-dipped caramel apples, apple dumplings, pork burgers and much more. Indiana wineries will also be in attendance.
Music – Both weekends feature live music. The first weekend you can enjoy the folk and blues sound of Acoustic Catfish. The second weekend Flatland Harmony Experiment will perform Bluegrass on Oct. 12. Then on Oct. 13, Raven Road Band will bring their country western, bluegrass sound to the festival.
Hayrides and pumpkins – Nothing says fall more than hayrides and pumpkins. Hayrides run continuously to the 12-acre pumpkin patch where you can pick your own pumpkin. Insider Tip: Dress properly. You will have to climb on to the wagon and the pumpkin patch could be muddy.
Family Fun – Your children will love the Kids' Activity Zone. Sugar Buzz will present numerous games and activities, along with Ken's Balloon Magic and Adzooks Puppets. Wristbands are available for your children to enjoy even more fun.
Shopping – The outdoor marketplace features high-quality arts and crafts. You will find hair bows, wreaths, gifts and more. It's a great chance to think ahead to gifts for the holidays.
Corn Maze – Find your way through the 4-mile corn maze. Each year, the maze has a different theme. This year's maze is themed, "Beasley's Corn Dog." The purpose of this year's maze is to bring awareness to animal rescue and adoption. To find your way through the maze you will need to answer a series of questions about animal rescue and adoption. If you answer wrong, you will be led in the wrong direction.
Pictures – I love to take fall pictures at Beasley's. I always take pictures of my daughter when we visit. So be sure to take along your camera.
Heartland Apple Festival Beasley's Orchard
2304 E. Main St.Danville, Indiana9 a.m.-6 p.m., Oct. 5,6, 12, 13Parking is $5.