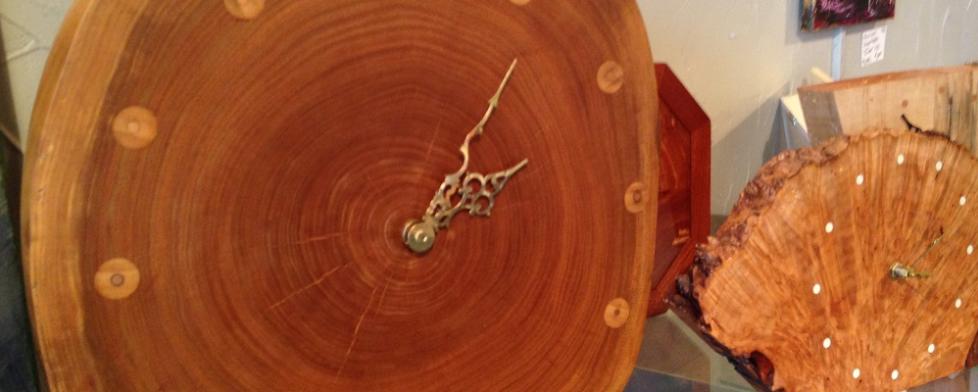 The Visit Hendricks County staff has found our favorite One-of-a-Kind Finds in Hendricks County. In many cases, that means these gifts are handmade by local artists or are simply items you will only find locally.
This installment focuses on all of the dads, so we included all of the manly man gifts we could find. But even if the particular item or experience we feature may not be for your dear old dad, we recommend shopping local this holiday season by visiting each of these locations as they just might have that gift idea you thought you would never find.

Popcorn
One of our bloggers, David Ayers, recently visited the new Heidi Pops store in the Metropolis Lifestyle Center, 2399 Futura Parkway, Plainfield, (you can read more about his visit here) and came away so thoroughly impressed that he personally recommended it as a place to find a gift for dad.
Heidi Pops has a wide assortment of flavored popcorn from traditional favorites like buttered, cheese and Chicago mix to some non-traditional offerings like confetti, bacon cheddar and even sour apple. They sell their popcorn in three sizes of bags and in themed tins that even include sports teams. Cost is $4 for small bags, $7/medium or $9/large, and the tins range from $20 to $60 depending on the size.
Wood Clocks
If your dad is into clocks, we discovered some one-of-a-kind handmade wooden clocks at Finer Things, 1032 E. Main St., Brownsburg.
One look and you could tell a lot of time (no pun intended) and craftsman ship went into this clocks that come in various shapes and sizes and range in price from $40 all the way up to $125.
Winter Golf Experience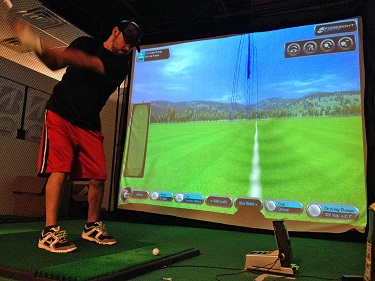 Who would have thought you could play the Torrey Pines Golf Course with your own equipment while continuing to hone your golf game in the winter time in Avon? No, that isn't a typo. Golf Etc in Avon has a state-of-the-art simulator that any golfer would enjoy.
Winter leagues and golf packages are available as gifts for $250 that includes one hour a week in the simulator and 10 percent off any items in the store. Winter Leagues cost $150 for a two-man team and include 9 holes a week. They even have a $500 deal for four golfers.
Anyone who has a man in their life who plays golf should know that this is quite a deal, and it even includes some lessons as an expert in the store watches and helps participants improve their golf game while they are playing. 
Handmade Birdhouses
If you are looking for a unique gift for a bird lover, look no further than Old Bob's, 10896 E. U.S. 36, Avon.  The store has a variety of birdhouses and other accessories for a variety of birds.
They have large and small and commercial brand birdhouses that you might find anywhere, but what specifically caught our attention were some local, handmade creations that are specifically designed for wrens and bluebirds. We found small houses made with recycled materials to some really intricate creations that had a style all their own.
Prices range from $10.99-$39.99, and while you're there you can check out some of Old Bob's other items such as custom framing, outdoor furniture, wind chimes and much more.

Wooden Bread Knife & Board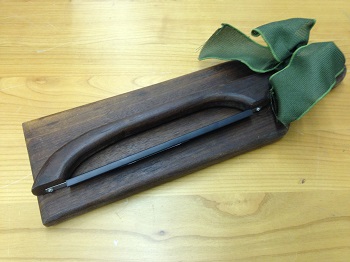 While Gallery on the Square, 51 S. Washington St., Danville, may not sound like the kind of place you would find a gift for dad, we are amazed each year by just how many options we find. This year, we settled on a unique, handmade bow-shaped bread cutter and cutting board combo made by local artisan Francie Metschke. The combination had a $50 price tag. Though you do have the option of buying the cutter only for $28.
This piece has the type of craftmanship we could envision becoming a family heirloom that gets passed down from generation to generation. Metschke also had some small wooden cabinets that also caught our eye.
Rusty Wallace Racing Experience
Do you have a speed junkie in your life? What better way to give him a moment he will never forget then to purchase a Rusty Wallace Racing Experience at Lucas Oil Raceway, 10267 E. U.S. 136, Brownsburg.
Each participant gets a brief course on the ins and outs of stock car driving, and then they are ushered down to the track. The experience includes getting fitted for a racing helmet and suit, and the choice of a ride along or a 15-lap driving experience around the famed oval. You can visit the track for more information or go online to order your experience.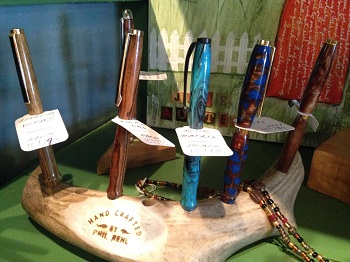 Handcrafted Pens
So you have that guy who is tough to buy for. Well, we found some unique ink pens at Finer Things, 1032 E. Main St., Brownsburg.
Handmade using wood, glass and even deer antler, these were not your ordinary pens and would likely become a gift dad would treasure for many years to come. The pens ranged in price from $18-$36.
Craft Beer
Hendricks County is home to some amazing local brewers including Black Swan Brewpub, 2067 E. Hadley Road, Plainfield and Three Pints Brewpub, 5020 Cambridge Way, Plainfield.
Both locations have craft beer available during regular hours and both also double as restaurants. Gift certificates and growlers are available at both locations.