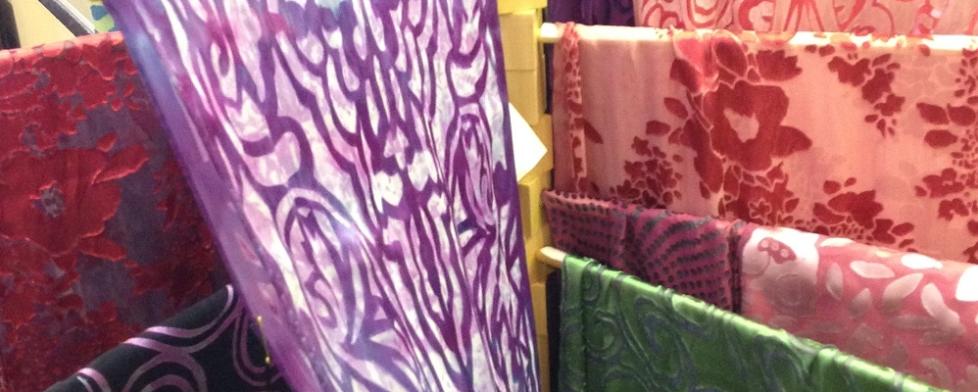 The Visit Hendricks County staff scoured Hendricks and Morgan counties looking for One-of-a-Kind Finds you can only purchase here. In many cases, that means these gifts are handmade by local artists.
This installment focuses on all of the moms, and we have put together an amazing list that will make her proud. We do suggest visiting each of these small businesses even if our finds don't sound like good fits for your mom as they just might have another gift idea that is perfect.

Handmade Scarves
When it came to scarves, we found a lot of options during our scouting, but our favorites were found at Artistic Designs Gallery, 124 E. Northfield Drive, Suite K, Brownsburg. Handmade by Caryl Hancock, these scarves caught our eye because of the rich textures, colors and different options available.
Caryl literally turns these silk scarves into works of art through hand dying and marbling techniques. The marbling is achieved by floating the paint on water and combing patterns into it. The scarf is then laid on top to capture the image. Everyone of her creations are truly original, and they range in price from $50-$60. 
Jewelry Classes
Gallery on the Square, 51 S. Washington., Danville, offers a couple of experiences that would make that creative gal on your list happy this holiday season. Both classes we learned about that are offered by local artists at the Gallery include bead weaving and wire working.
The bead weaving class teaches the basic techniques of needle threading one bead at a time to make a necklace or bracelet. Once you learn the basics, the instructor tells us you can use your imagination from there.
Similarly, the wire working class teaches the basics of manipulating wire and semi-precious gemstones to make a beautiful necklace. Both classes cost $35 to attend, and Gallery on the Square offers gift certificates for their classes or to purchase any of the items inside the shop. Contact or stop by Gallery on the Square for more information.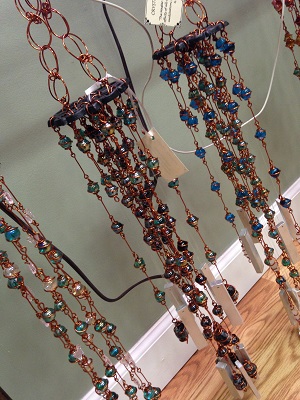 Wind Chimes
We found some amazing wind chimes at a fairly new flower shop in Coatesville called Fleurs de Beausoleil. These handmade creations made from marble prisms, semi-precious stones and recycled alumninum and copper wires are stunning and eye catching. But most importantly, they emit a beautiful, slightly high-pitched sound that is pleasing to the ear.
Any mom would love to have one of these wind chimes hanging outside. They come in different colors and stones and sell for $60.
Knitting Kits
If you have an experienced knitter on your holiday shopping list or even a beginner who is eager to learn, we found just the gift for you at Nomad Yarns, 218 E. Main St., Plainfield. The store, which sells a variety of yarns, fabrics and other knitting and crocheting accessories, had knitting kits and some unique knitting-themed jewelry that caught our eye.
The kits Nomad Yarns will feature during the holiday season range from $15-$30 in price. I don't have enough room in this space to describe each pattern to you, but each are Nomad Yarns originals, and we loved them all.
All the kits come with the yarn and pattern in a choice of colors and have full explanations and tutorials. The store also offers regular classes. While we were in the store, we also noticed some unique Hendricks County artisan jewelry made from knitting needles that would also make a great gift for mom or grandma.
Chocolate Ornaments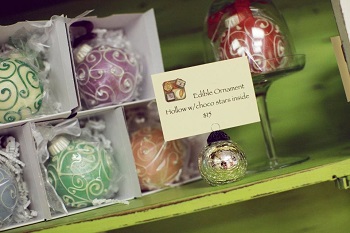 What's better than chocolate? How about chocolate art?
Confection Delights, 57 S. Washington St., Danville, has an amazing selection of what we like to call edible art that changes each season. During the holidays, the shop will feature hollow chocolate ornaments ($15), brownie bite snowmen and angels ($2), truffle gift boxes ($6-$25) and chocolate monogram initials ($2).
Confection Delights has so many options, including their famous high-heel shoes made entirely of chocolate, that we recommend visiting the store because you might find something we didn't see for your mom.
Mother Necklaces 
Looking for a gift that your mom will surely treasure? We may have found it for you at one of our Rural Routes to Main Street Cultural Trail locations -- The Sterling Butterfly, 190 E. Morgan St. in Martinsville.
These unique necklaces designed by Pam Hurst allow you or mom to customize the jewels based upon the birthstones of those she holds dear. Most moms would use it to display the birthstones of their children, but birthstones for spouses, pets and anyone else could also be used to customize this piece that both literally and figuratively would be close to her heart. Necklaces start at $50 and go up from there depending on the number and types of stones.
Hand-Painted Purses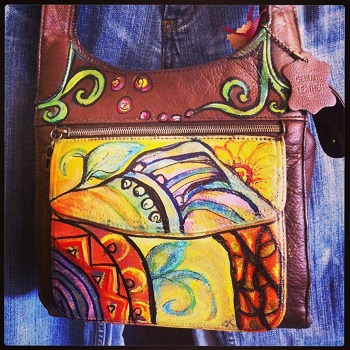 Talk about eye catching, when we walked into Jane's on the Square, 65 W. Marion St., Danville, we were struck by these hand-painted purses that were truly unique. Each purse is an original that was painted by a local artist.
The artist finds purses that are still in good condition other than the outside and breathes new life into them through her artwork. They have both vinyl and leather purses available, and you can even request custom work by going into the store. These purses are a steal with price tags ranging from $5-$40. 
Rural Routes to Main Street Experience
Virtually any mom would love to take a trip on our Rural Routes to Main Street Cultural Trail, a self-guided, self-directed driving tour with more than 30 stops in Hendricks and Morgan counties including art galleries, restaurants, handcrafted gift shops and much more.
We figure all she needs is that little nudge, so why not take a look at the cultural trail's stops, find a few that you think she would like to visit and contact them about gift certificates. Virtually all of the stops offer them, she could get what she wants, enjoy a day away from home and she will have you to thank for it.