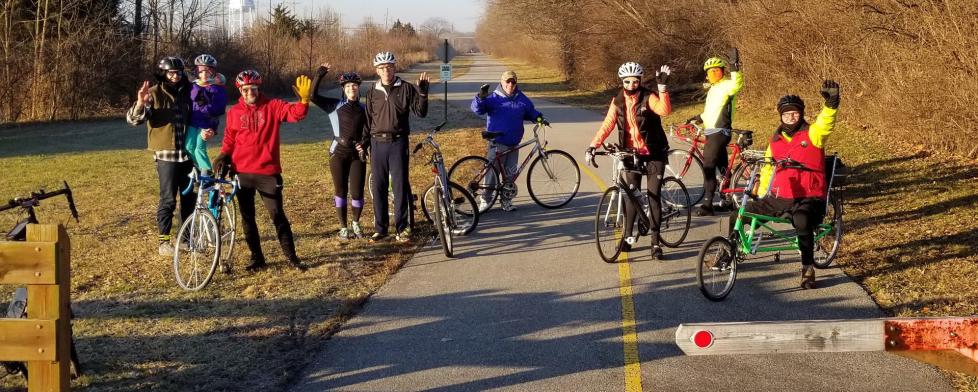 My fellow blogger Jamie Hergott recently wrote about locations to enjoy Outdoor Winter Fun in Hendricks County, so as the assistant superintendent of Hendricks County Parks & Recreation, I thought I would complement Jamie's post with one about 8 outdoor activities that visitors and locals can enjoy in Hendricks County, Indiana, parks.
After all, just because it's winter doesn't mean that we can't all go outside for some fresh air and exercise. You might be surprised by what we have to offer during the winter months!
1. Adult Night at Penguin Park 
Looking for a fun and unique date night idea? If you and your special someone are 18 or older, check out Penguin Park in Avon this Friday, Feb. 7 from 7 to 9 p.m. for Adult Night.
Penguin Park is a synthetic "ice" skating rink that's located within Washington Township Park. My colleagues over at Washington Township Parks & Recreation put together a series of Adults-Only Nights on Friday evenings, and this Friday is the last one of the season.
For just $8 per person, you and your date can skate in the rink. If you get cold or need a break, just jump into the igloo-shaped warming station!
Adult beverages will be available for purchase from Indy Beer Tap, and the Blonde Sonja Duo will provide live music for everyone in attendance. It's sure to be a fun evening that's easy on the wallet!
(Insider tip: Looking for additional date night ideas? Click here.)
2. Brisk Bicycle Rides on the Vandalia Trail 
Bicyclists, don't let the winter months leave the activity that you love out in the cold! Join the Friends of the Vandalia Trail for monthly brisk rides along Plainfield Parks & Recreation's section of the Vandalia Trail. The February Brisk Ride will be held Feb. 15 while the March Brisk Ride will be held on March 21.
Whether you're a regular cold weather rider or would like to try it for the first time, come on out and enjoy a relaxed opportunity to try out your cold weather gear and exchange strategies with others.
The group gathers in Plainfield right behind Biggby's Coffee and the Metro Diner and in front of Meijer, convenient for a hot drink before the meet-up, for a warm breakfast after the ride and for last-minute general supplies.

The group typically starts from the nearby Vandalia Trail at 9 a.m., but will push that back to 10 a.m. on Feb. 15. They will then ride at a leisurely pace to its west end, then back to and down the White Lick Creek Trail a bit, and finally return to the Vandalia Trail for the last stretch. This route is about 10 miles, but the group and individuals can choose more or less distance, depending on the conditions.
For more information, click here.
3. Games on the Rink at Penguin Park
Did you have fun on your date night at Penguin Park? Well, bring the kids this time and have a family outing during Games on the Rink on Saturday, Feb. 15 from 5 to 7 p.m.
Join the Washington Township Parks & Recreation staff as they play games such as human bowling, Hungry Hippo, relay races and freeze tag on the Penguin Park rink from 4 to 5 p.m. Prizes will be given for free concessions, Texas Road House Kids Meals and Free Summer Camp Passes! 
Admission of $8 per person comes with a free pair of skates to try your skating skills from 5 to 6 p.m. Snacks and drinks will be available for purchase at the concession stand.
Advance registration is required by Feb. 14 by clicking here.
4. Frosty Paws at McCloud Nature Park 
Are you and your four-legged friend tired of the same old walk? Then come out to McCloud Nature Park, which our department operates just outside of North Salem, on Saturday, Feb. 22 at 2 p.m. and take a winter walk led by one of our naturalists. We will be blazing a path for our frosty paws together!
During the hike, we will find out what your canine's ancestor, the coyote, is doing during the winter months. Be sure to dress for the weather! Participating dogs must be friendly with other dogs, and all dogs at McCloud are required to be on a leash.
This program is free to attend.
5. Plainfield Parks & Recreation Run/Walk Series
Looking for a great opportunity to train, race and improve in 2020?
Plainfield Parks & Recreation offers the perfect opportunity for both the seasoned runner/walker and the first-time, couch-to-5Ker! Their three-race series progresses from February through April.
Additionally, they offer a training program that meets twice weekly. All events take place at the Richard A. Carlucci Recreation and Aquatic Center in Plainfield.
The Frosty Feet 5K will take place on Feb. 22, the Spring Fling 5K and 10K is on March 14 and the Trot the Trail 5K and 10K is on April 11.
For additional information, including how to register, click here.
6. Winter Scavenger Hunt at McCloud Nature Park
We have a fun, free, family-friendly outdoor event that you can enjoy at McCloud Nature Park on Saturday, Feb. 29 anytime between 10 a.m. and 4 p.m.
The Winter Scavenger Hunt will allow participants to enjoy some fresh air in the park while searching for items on a self-guided scavenger hunt! Will you spot a bird or tracks of a white-tailed deer? Can you spy a winter home for an animal?
Pick up the scavenger hunt at the Nature Center and return for a small prize! This program is free to attend.
7. McCloud Maple Syrup Days 
Mark the first two Saturdays of March on your calendar -- March 7 and 14 -- for the annual McCloud Maple Syrup Days at McCloud Nature Park! This fun outdoor experience compares how maple syrup was made in the past and how it's made today.
Then, warm up inside McCloud Nature Center with the Parks Foundation of Hendricks County's Pancake Breakfast Fundraiser. The breakfast features pancakes topped with 100% all-natural McCloud Maple Syrup, made with sap from the sugar maple trees at McCloud Nature Park!
The Parks Foundation accepts freewill donations at the Pancake Breakfast, and bottles of McCloud Maple Syrup are available to purchase during each Saturday.
For more information, stay tuned to this blog and click here.
8. Explore Hendricks County Trails 
Up in the northeastern section of Hendricks County, the B&O Trail Association operates the B&O Trail, which runs through and west of Brownsburg. This is a paved trail that is perfect for biking, running and walking.
Hendricks County Parks & Recreation operates a four-mile paved section of the Vandalia Trail, running from Amo through Coatesville to the Hendricks-Putnam County Line, where it connects with People Pathways and continues all the way to Greencastle. We do not clear our section of the trail in the event of snow, which makes it a fun environment for cross-country skiing, snowshoeing, snow biking or hiking.
Plainfield Parks & Recreation operates a paved section of the Vandalia Trail that runs through Plainfield. They do clear their part of the trail after a snowfall, so bicyclists, joggers and walkers can enjoy it. Plainfield Parks & Recreation operates a great trail system throughout their town, so there is plenty to explore outdoors. 
We have 6.5 miles of trails at McCloud Nature Park near North Salem. You can discover even more trails at Sodalis Nature Park and Hummel Park in Plainfield, Williams Park and Arbuckle Acres Park in Brownsburg, Washington Township Park and Avon Town Hall Park in Avon and Ellis Park, Gary Eakin Community Park and Blanton Woods in Danville.
Enjoy the Great Outdoors in Hendricks County!
These aren't the only ways to enjoy being outside during the winter in Hendricks County! For more outdoor (and indoor) events over the next few months and beyond, be sure to check out our Events Calendar.