Last year, I wrote about how quickly fall had approached. I share this same sentiment today, as I write about this year's Heartland Apple Festival at Beasley's Orchard in Danville. I've written about the orchard and this fall attraction - a true tradition for my family - so many times. We love it so.
Beasley's Orchard in Danville will bring the fun back again during its annual Heartland Apple Festival. If you're a local, you've surely heard about or experienced this fall tradition. If you're a visitor or have never heard about it, you must check out this fantastic two-weekend event held the first two weekends in October every year.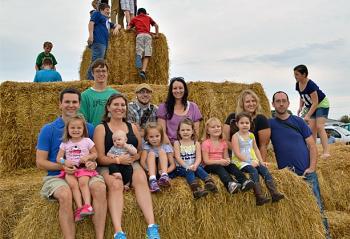 The Heartland Apple Festival has become a tradition for my family. It boasts something for all of us, and it always comes when we are in dire need of some time together, outside, enjoying the simple things.
Between my family and our friends' family, we had six children in tow when we visited last year. Everyone enjoyed every minute of it. Needless to say, we're looking forward to this year's event.
But before I can't into my (short) list of reasons to visit, I need to address changes this year because of COVID-19.
Other Weekends or Weekday Visit
Because of the pandemic, Beasley's Orchard has worked closely with the Hendricks County Health Department to create a plan to conduct its operations in a safe manner. As a result, the farm will do something this year it has never done, offer most of the activities that I detail below Monday-Friday from 1 to 6 p.m. in addition to its weekend hours.
Traditionally, all the farm's fall activities only opened to the public on weekends. By opening every day, Beasley's Orchard hopes to minimize large weekend crowds and spread attendance throughout the entire fall season. Weekday admission is discounted in relation to weekend admission, helping to encourage families to take advantage of these weekday opportunities.
If you do need to attend on a weekend, they now host six fall festival weekends beginning this weekend through the entire month of October. To limit the crowds during the Heartland Apple Festival, they are asking regular attendees to potentially visit on one of the other weekends if possible. 
With that being said, here's why you should visit Beasley's this year...
U-Pick Apples
Unfortunately, Beasley's was hit hard by an untimely frost in May cutting into its apple crop for the year and taking away their u-pick apple section.
The good news is they are making the most of this unfortunate event by creating a unique way for guests to still enjoy the majestic orchard setting by selling apple ornaments that participants can then hang in their apple trees. Proceeds raised from this family activity will be donated to the Hendricks Regional Health COVID-19 Support Fund.
The Corn Maze
Beasley's corn maze remains one of the highlights of the fall season, but this year's design has one change while also holding special meaning.
Past visitors have requested a shorter version of the corn maze, so this year Beasley's changed their corn maze to offer a shorter version and the traditional longer version. No matter which you choose the cost will be the same.
Beasley's also decided to dedicate the corn maze and its entire fall season to the people who have and continue to risk their lives for all of us every day.
They partnered with Hendricks Regional Health on the 8-acre corn maze to offer a well-deserved 'Thank You' message to the dedicated healthcare workers battling on the front lines in the fight against COVID-19. The corn maze reads "Thank You For Your Relentless Dedication."
In addition to the corn maze, Beasley's Orchard also will give free Combo Pass admission for all healthcare workers from any hospital who show their ID badge. Their immediate household family members also will receive 50% off Combo Pass admission throughout the entire fall festival season.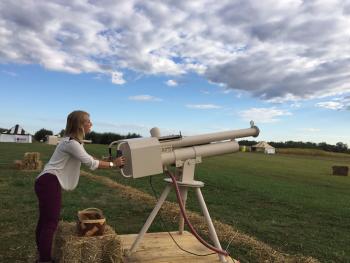 Apple Cannons
If you get a chance to fire these bad boys, make sure you take advantage of it. Shooting apples from air-compressed cannons to try to hit a target? Does it get any better than that?
Last year, we bought a bucket full of apples to start but quickly went back for another.
They've even added metal targets to make it even more enjoyable. Whether your young or old, shooting apples from a cannon is guaranteed fun.
The Barn Market and Craft Vendors
Beasley's Orchard boasts a beautiful, well-preserved barn that serves as their market for the whole season, not just the festival. I love walking the market and shopping for the host of local items such as teas, decor, pantry items, gourmet foods and of course, their fresh produce.
Facial coverings will be required inside the market this year.
Outside, get some mini pumpkins or Indian corn and stroll the outdoor craft vendor market for a little bit of everything. And it's all good. Last year, I left with specialty treats, bandannas for the dogs and homemade body butter. 
All the Food
Naturally, folks come for the eats. It's an orchard, after all. Our oldest makes his way straight to the counter at the back of the barn to purchase their award-winning cider. For him, it's usually a cider slushie for now and a gallon of cider for later. Whether you prefer it hot or cold, Beasley's cider is simply the best.
They've also added a new line of hard cider this year that I haven't tried yet but heard good things about. It is on my list for this year.
You'll want to leave room for lunch or dinner, too, as the food vendors at the Heartland Apple Festival don't mess around. Burgers, tenderloins and fried biscuits with apple butter are personal favorites, but there is something for everyone.
Hay Mountain, Barnyard Bonanza, Hayrides & Live Entertainment
I meant it when I said that this festival offers fun for the whole family. Year after year, I send my kids up the hay mountain - a big stack of hay bales...yep, simple pleasures - to pose for a picture. I love looking back at these from over the years. That mountain sure looks smaller these days. Still, it's fun for all the kiddies to climb and play.
The Barnyard Bonanza family activity area provides fun for all ages. You'll find a giant jumping pillow -- sure to tire out kids, and their parents -- a spider climbing rope web, a corn crib for digging similar to a sandbox, only way cooler and a row of ball games - pitch baseballs, spin a spiral in the football throw or shoot some hoops.
The hayrides to the pumpkin patch has definitely became a tradition that my family must do. Once the tractor starts moving every year, their faces reveal what I really hope for -- simple joy. We found the perfect, albeit heavy, pumpkin. We were all grateful for the hayride back to the barn.
While facial coverings are recommended throughout the farm this year, like the market they are required on the hayride.
In the background, you'll hear live music and entertainment coming from their center stage. You'll want to venture closer for the puppet and magic shows.
Pricing
Pricing Information (per person): Hayrides $4, Corn Maze $7, Barnyard Bonanza $5 and Apples Canons are $3 for 5 shots or $5 for 10 shots. My advice: get the combo pass for $12 - this includes the corn maze, a hayride, Barnyard Bonanza admission and 5 shots with the apple canons. That's a deal! Kiddos under 3 are free. Parking is $5. As I said before, weekday rates will be cheaper with a Combo Pass costing just $9.
Heartland Apple Festival Details
When: 9 a.m.- 6 p.m. Saturday and Sunday during the first two weekends in October every year.
Where: Beasley's Orchard, 2304 E. Main St., Danville.
What: All the fall fun including hayrides, u-pick pumpkin patch, apple cannons, corn maze, barnyard bonanza family activity area, vendor shopping, amazing apples, good eats, craft vendor shopping and live entertainment.
Other Weekends
Sept. 19-20: Opening Weekend
Sept. 26-27: Hometown Heroes
Oct. 17-18: Dog Daze at the Maze
Oct. 24-25: Halloweekend