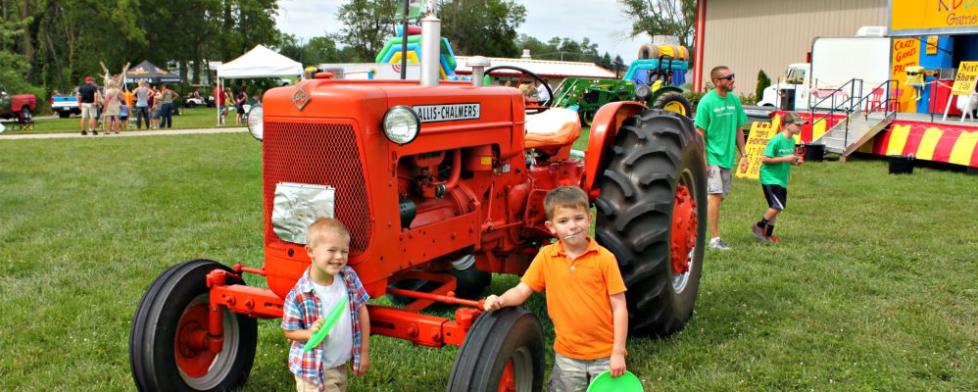 I recently shared on the blog about some fun and exciting things on the schedule at this year's Hendricks County 4-H Fair. The theme for this year is "Every Day is a Holiday," and there are all kinds of holiday-themed events planned.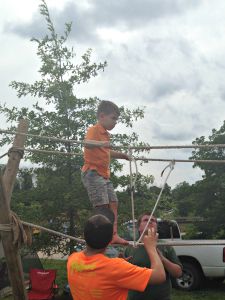 This past Sunday, my kids and I decided to check out the fun for ourselves, and we came back with even more things to look forward to at this year's fair. I asked the boys (ages 4 and 6) to weigh in with their favorite things at the fair this year, and we put together our top five.
The Boy Scout Experience 
Local scouting groups have set up a free area where you can try out a rope bridge, and if you're 7 or older, you can also fire BB guns.
My oldest is at Cub Scout camp this week, so this little taste of scouting was like a dream come true for him.
Galaxy Girl
New to the fair this year is Galaxy Girl, who performs acrobatic feats high above the crowd during several shows every day.
The boys were mesmerized by her flips and turns, and I couldn't help but be impressed as well -- even though the mom in me was a little nervous for her!
Plasterman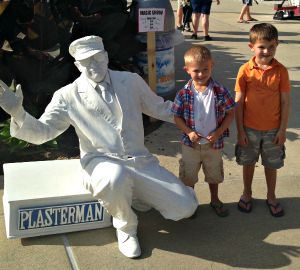 The boys are still trying to figure out whether Plasterman is a real person or some kind of magical statue.
If you spot him at the fair, be sure to say hello. He'll even come down from his platform to pose for a picture or two! 
Swifty Swine Racing Pigs
Yes, you read that right: Racing pigs. The kids insisted we watch the racing pigs, and I ended up being glad we did.
I couldn't help but smile at the boys excitement as we cheered "our" pig to victory. These shows happen several times each day. Be sure to check their display for times.
The Animals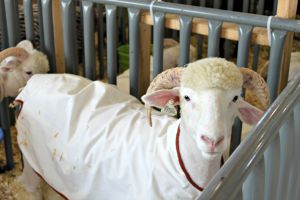 With all of the rides, entertainment, and yummy food, it can be easy to forget one of the most important aspects of the fair -- the animals that 4-H kids have worked so hard to raise and train!
My kids were not content until we saw every animal in every barn. Their favorite part was getting to see a goat be milked!
The Hendricks County 4-H Fair continues through Saturday and fair admission is $5 per car.
Pro tip: If you park at Danville Friends Church, you pay the same $5 and get free admission tickets into the fair. You can walk right across the street and into the fairgrounds! It was an easy way for us to get our young children in quickly. 
Have you visited the fair yet this year? What are you most excited to see?