UPDATE: Since this article was published, the previous owners of Frank and Mary's found buyers to keep the long-time Pittsboro restaurant open. However, the restaurant closed for good on 11/20/2012.
I grew up in Danville, and as a kid that is where our family gathered for the holidays. Central Indiana was a great place for our family from Chicago to visit, along with our family from Terre Haute. After the holiday feast, no one wanted to cook, so that meant a visit to a Hendricks County favorite,
Frank and Mary's Catfish House
in Pittsboro. After 66 years, Frank and Mary's will close their doors a week from today, Nov. 30. A family business from beginning to end, they've been famously known for their fried catfish.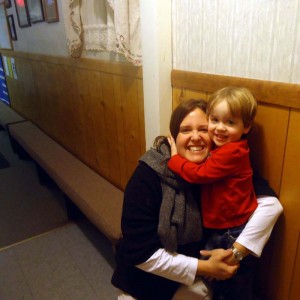 Monday night, my family headed out for our final visit. Like all the kids in our family, my son Connor 'ran the benches' that line the waiting area from the front door to the dining area. He also spent some time in front of the silly mirror that makes you look really tall. I distinctly remember waiting along those benches and inching along toward the tables with the black and white table numbers and the red and white table cloths. Everyone got the fried catfish on the bone with the homemade tarter sauce and a shredded lettuce salad, except me. I had to have the country fried steak with the mashed potatoes, corn and white gravy. Connor had chicken fingers and fries, and now through the end of the month, kids meals are just $1 with the purchase of an adult meal. We've been lucky to have such a great restaurant in our backyard for more than six decades, and the Herring family has remained a vital part of the Hendricks County community supporting local events, Little League teams and even participating in the annual
Taste of Hendricks County
benefit. Check out their
Facebook page
, and share your favorite memories. Frank and Mary's is open daily, and hours are 11 a.m. - 10 p.m. Monday through Saturday and 11:30 a.m. - 2:30 p.m. Sundays. Stop in and thank them for 66 years of food, family and fun.