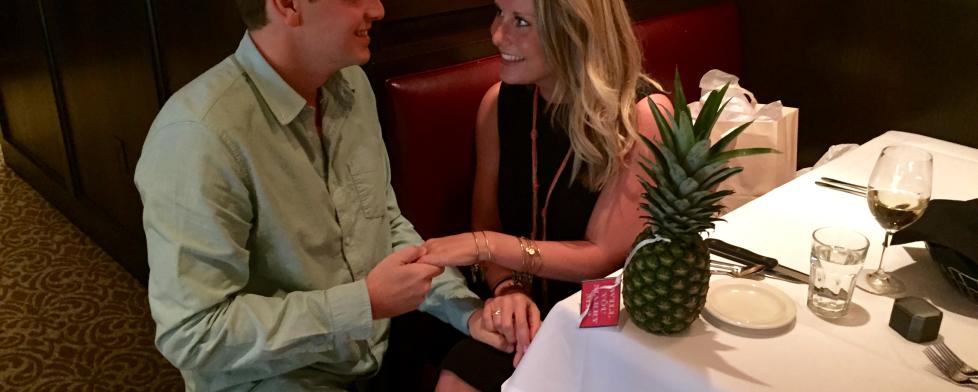 Editor's Note: This is the first in a series of posts getting a local groom's perspective as he and his bride prepare for their big day later this year. Jack Helton and his fiancee, Taylor, are an example of how Visit Hendricks County can help future brides and grooms prepare for their big day with free resources many people may not even realize exist such as help with lodging and entertaining out-of-town guests as well as a bridal guide filled with local florists, photographers, caterers and more.
Before all of the cake tasting, tux shopping, venue searching, guest-list making, and the many other pieces that are required to plan a wedding, there was the engagement ring search. 
Taylor and I started dating after we met in the spring of my freshman year at Purdue University. Taylor, a sophomore who volunteered as a freshmen orientation leader, stood out to me ever since I saw her that very first week. When our paths ran into each other again later that school year, it wasn't long before I knew she was something special. 
Fast forward three years later, I had just graduated from Purdue and Tay had completed her first year of her Masters degree in Texas. She was completing her clinical internship here in Indy before returning to Texas for the fall. I knew I couldn't let her go back for another year of school without having a ring on her finger. There wasn't a doubt in my mind that it was time for me to get down on one knee. 
When it came time to search for the ring, I had no idea where to start. Luckily, her Pinterest account was logged onto my computer, so I took to her wedding board for some inspiration. After getting a few ideas, I took to the jewelry stores. I always thought that searching for an engagement ring would be a nerve-racking experience, but it was not scary at all. I was so excited to pick the ring out for my future wife.  
I searched around a few stores before coming across one I just couldn't pass up. This ring was everything she meant to me: stunning and beautiful, yet simple at the same time. I knew it was the perfect one. 
After purchasing the ring, I asked Taylor's dad for her hand in marriage. Again, this was not nearly as nerve racking as I'd imagined, since I was just so excited. That following weekend, I picked her up and took her downtown for lunch at Harry and Izzy's.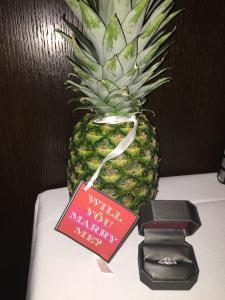 That whole day was a blur.
I had planned on waiting to ask her after we had eaten, but I couldn't delay it any longer! All of my excitement and planning was coming together, and I couldn't wait a second more. I handed her a gift of a pineapple (an inside joke because it's her favorite fruit) with a card that popped the magic question, Will you marry me? 
Once Tay realized what was happening, she quickly said the word I was hoping for, YES! 
Since getting engaged, we have planned the majority of our wedding, been in a long-distance engagement, began searching for houses and so much more. I will detail more of our planning for the big day in my second post next month and will follow that up with a post-wedding account featuring pictures from the Hendricks County venue that will host our wedding.
Tay is finally back in Indiana for good, and we are eagerly waiting for that wedding day to come next month!