I have driven past Dave's Grill on Dan Jones Road several times, but this week I finally decided to stop for breakfast at this Plainfield, Indiana, restaurant.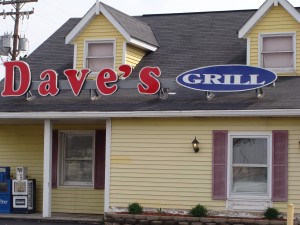 A couple of months ago this
Hendricks County
diner changed from the Sunshine Café to Dave's Grill. It is now a family-run business. The Dave behind Dave's Grill is David Nemecek who has been in the restaurant business for years, but just recently took over ownership.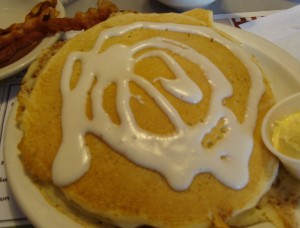 As I entered, I was immediately greeted and taken to my table. I asked the waitress what she suggested I order. She told me that a popular item was the Cinnamon Bun pancakes. She said they were so good that I would not need butter and syrup. I decided to give them a try. They were delicious and tasted just like a cinnamon bun. Dave's Grill has a relaxed diner-like atmosphere. The morning I was there, several regulars were having breakfast. I talked to one of the regulars about why he enjoys Dave's. He told me the great service and inexpensive food has made Dave's his "home away from home." He also likes that the servers know him by name and he can take his time and relax. He often works on a crossword puzzle after his meal. Dave's Grill hopes their customers feel at home. I talked with Michelle Alfaro, the manager and Dave's daughter. She said being a location where everybody knows you're name is exactly what they strive for. All the desserts with the exception of the pecan pie are homemade by Michelle's mom. The dessert offerings change often, but one dessert that is always on the menu is Ding Dong Cake. Michelle says that dessert also happens to be their most requested. She sent me home with a piece, and it was delicious.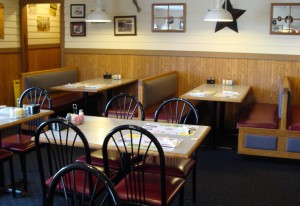 Other popular items on the menu include omelettes, a breaded tenderloin and Dave's Big Burger. Dave's also offers daily specials and promotions throughout the week.
Money saving tips for visiting Dave's Grill
Tuesdays – Children 10 and younger eat free with adult purchase.
Wednesday nights – Seniors 62 and older eat for half price from 4-9 p.m.
Friday nights – All you can eat catfish.
Dave's Grill155 N. Dan Jones RoadPlainfield, Indiana317-839-2969
Hours:
6-9 p.m. Sunday-Tuesday & Thursday 6 a.m.-9 p.m., Wednesday 6 a.m.-Midnight, Friday & Saturday
Like Dave's Grill on Facebook