The first time I ever put a camera in my son's hands and set him loose was at McCloud Nature Park. This wasn't by accident.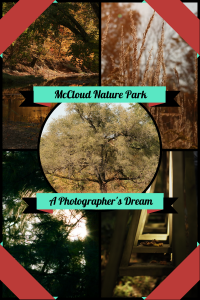 See, when you have a teenager that's pulling away from their "embarrassing" parents, you pounce on whatever area they show a hint of interest. So when my burgeoning teenager showed an interest in photography, I jumped at the chance to take him to my "safety school" of photography. I'd learned the year before on a photo-hike (with guides) that it was tough to go wrong when you're snapping pictures at McCloud. From the 232 acres of woods, ravines, prairies and a creek; mixed in with some well-designed accommodations for hikers, it's hard to not find your camera card full quickly. After a quick lesson in lighting at the Nature Center, we were off. Denver stuck close to my side at first, but before I knew it he was veering off path.
Every time something caught his eye, we paused. Under my guidance, he experimented with angle, zoom and unique perspectives. Though it was fall, we scrounged for beauty in the natural browning of the forest around us. While we walked and snapped pictures, talk began to flow beyond photography. In the relaxed natural setting of McCloud, we found conversation hidden under the brown foliage of the secretive teenage years, just like the bright colors of berries hidden among the fallen and brown leaves. I learned he wanted to be a doctor, and that he felt he didn't fit in at school. Little things, big things, it didn't matter, so long as he was being open. Denver turned out to be a natural, and we've found something we both enjoy. When you're a mother to a boy, sometimes finding a level to connect on gets tougher as they age. This is a gift beyond measure. We spent several hours at McCloud that day, walking along the trails, finding secret little spots to take some amazing photographs. Beyond that, we reconnected with each other and with nature itself. At McCloud, there's no TV, no phones (or very little cell service), and once you step on the trails, the modern world slips away.  It's you, and what or who you brought with you. It's a chance to breathe, to pull away and remember what makes the earth so amazing.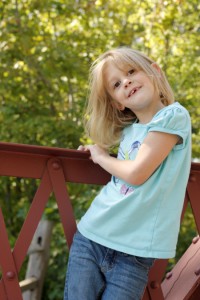 If you want more to do than hike, they offer
programs
for all ages.  There are moonlit owl hikes, lessons on Arbor Day history, prairie burns and even sugaring. Of course, if you're a photographer, go any time. Any season, the park is beautiful. Plan your family photo shoots there. Let the kids loose, and they'll find natural places to be captured on film. My girls found a snake, fresh flowers, an elaborate spider web, and leftover fall foliage on our spring hike. I found numerous pictures that just leaped off the screen as gorgeous reminders of their childhood.
McCloud Nature Park
is a can't miss spot — for your camera and your family.