I've
said it before
, and I'll say it again:  I can't stand Valentine's Day. I do love chocolate, though, so when I was driving around
Hendricks County
and noticed a sign for the third annual
Downtown Danville Chocolate Walk
 from Feb. 1-14, I had to check it out.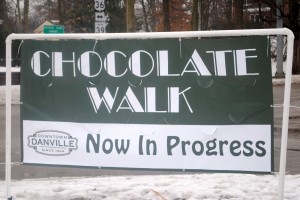 What does this have to do with
my disdain for Valentine's Day
? Hang with me for a second, and I'll explain. I wanted to learn more about this Chocolate Walk in
Danville, Ind.
, and who better to ask than the resident expert on chocolate, Pamela Powell-Warden of
Confection Delights
?
What is the Downtown Danville Chocolate Walk?
Pamela explained that a group of a dozen local vendors got together to offer the Chocolate Walk as a fun, free excursion for families and visitors who want to get out of the house, enjoy some sweet treats and visit some unique small businesses. Each business has a stack of neon pink cards with all 12 vendors listed, and participants can start anywhere. Chocolate Walkers then take that card with them to have it initialed by each business owner. If the participant visits at least 10 of the vendors, he or she can be entered in a drawing for a gift basket!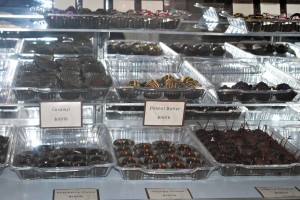 Each participating business, Pamela told me, offers some sort of chocolate, as well as some special theme for Valentine's Day. As soon as that cursed "V" word came out of her mouth, I started scowling. Pamela knows my wife, though, so she knows I can't just ignore the holiday, as much as I'd like to. "Take a chocolate-covered pretzel, you grouch," she said as she initialed my neon pink card. "Now go see what
Downtown Danville
has to offer to keep you out of the doghouse." As I huffed and puffed my way out the door, I noticed Pamela has a whole shop full of chocolates and all sorts of creative treats that I bet my wife would like for Valentine's Day. And that chocolate-covered pretzel tasted pretty darn good...
My Chocolate Walk
I grumped my way a couple doors down to the
Gallery on the Square
, still munching on that delicious pretzel. Seriously? An art gallery on a chocolate walk? What kind of sense does that make? But after I walked around, got my card initialed and enjoyed a piece of chocolate candy there, I started noticing a bunch of art and crafts that my wife would probably like as a gift. I'll have to keep that in mind.
Then it was down a half-block to
Outta the Shed
-- another puzzling participant in a chocolate walk, since they sell antiques and vintage items. But all it took was a piece of chocolate to get me to walk around and take a look. They have some really cool stuff in there! Not only did I get several Valentine's Day gift ideas for my wife, I also bought a neat wall-hanging for our house. Then it was over to
Jane's on the Square
-- a women's clothing resale shop -- where I scored more chocolate, as well as a coupon for $5 off a purchase of $25 or more. My wife likes to shop at Jane's, so that coupon is going to come in handy. I walked down to the
Danville Public Library
, landed another piece of chocolate, and discovered an upcoming activity for students in grades 6-12 that absolutely speaks to me:  "Love Stinks:  Anti-Valentine's Day Program" on Thursday, Feb. 13. That's awesome!! (The program is free, but
click here to register
.) Next, I went over to
The Beehive
for more chocolate, and while I was there, their Italian hand pies looked too good to resist. While owner Betsy Bassett warmed up my lunch, she told me about all the specials and themed dishes she's going to offer leading up to Valentine's Day. I inhaled my hand pie and thought to myself that The Beehive would make a nice Valentine's Day dinner spot. After lunch, I was stuffed and tired, so I took my neon pink card home with its six sets of initials and put it in a safe spot. I still have several more days to visit the remaining six businesses on the Chocolate Walk, and I want to try to win that gift basket! Pamela, of course, was right. The Downtown Danville Chocolate Walk is a fun and worthwhile activity, even for a Valentine's Day curmudgeon like me.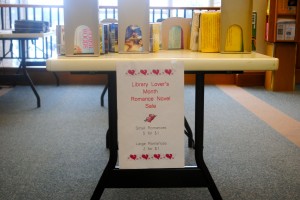 Come visit Hendricks County and start your own Chocolate Walk at any of these participating businesses in Downtown Danville during their normal business hours: