I was that kid that would lie in bed until everyone in the house was asleep and then switch on the lamp so I could continue reading. My dad would stumble into my room at 2 or 3 a.m. and emphatically announce it was time to "Shut the book and go to sleep." I never understood why he couldn't sleep if I was reading…but now I find my husband is the same way.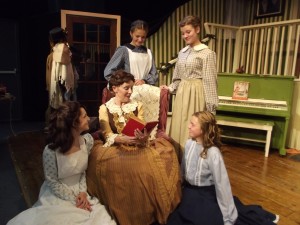 At the age of 8 or 9, I discovered my all-time favorite book:
Little Women
. For its time, it was a remarkable story. Louisa May Alcott wrote it in two volumes in 1868 and 1869 and it became quite successful. In 1880, it was published as a single piece. It's a story that still rings true in girls' ears and a story that is being shared in Hendricks County at the Longstreet Playhouse at 4998 N. County Road 100 E., Danville. The play,
Little Women
, produced by Tisa M. Davis and presented by the
Hendricks Civic Theatre
, opened to an almost full house Aug. 3. If you didn't get to see it this past weekend, you still have three more chances to watch the story come alive at the direction of Tara Carson during performances Aug. 10 and 11 at 7:30 p.m. and a final performance at 2:30 p.m. Aug. 12. As I experienced the play, it occurred to me that today's girls don't think twice about wanting to be a scientist, an engineer, a doctor, a lawyer or a politician because yesterday's girls changed society. And this story, more than the protests and marches, Gloria Steinem or Cosmo, helped me believe in my role as a female in the 60s, 70s and beyond. The message that 19
th
 century book gave the 9-year-old Elaine was that females didn't need to be limited because of their gender. Beyond the play itself, I enjoyed watching it at the Longstreet Playhouse, which provides a very intimate setting. The audience is within feet of the stage and you feel like you are on the set along with the players. You can see the slight smiles and the quick looks characters share as well as the smirks and sarcasm delivered in the way only young men can muster.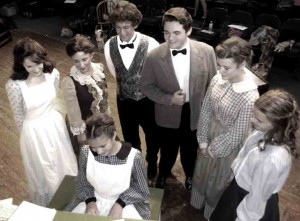 Community theatres like the Longstreet Playhouse are where some of the greatest actors and actresses cut their teeth and earned their chops as leading men and ladies. When you attend community theater productions, like
Little Women
, you see the sparks ignite; young people delivering lines that bring tears or giggles and guffaws. The message of the tale that unfolds, as well as the zeal of the players, makes for an evening in the country that will stay with you for some time. You never know, you may find yourself saying, "I saw her (or him) when …"
Hendricks Civic Theatre's "Little Women"
Location: Longstreet Playhouse, 4998 N. County Road 100 E., Danville.
Performances: 7:30 p.m. Aug. 10 and 11 and 2:30 p.m. Aug. 12.
Tickets: $12 for adults (18 – 61) and $10 for students and seniors.
Reservations: They are recommended by calling (317) 252-9626 or visiting www.hendrickscivic.com.