Let me start by saying that I don't let my daughter have lots of sweets. Yep, that's right I'm a terrible mother! I just figure wtih grandparents sneaking her sweets here and there, and sugar being in almost anything she could find she doesn't need tons extra.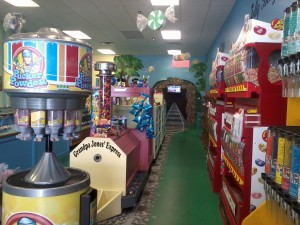 So, you can imagine her delight as we took her for her first trip to a local
Hendricks County
candy shop. I was excited as we loaded in the car and headed to 112 N. Ind. 267 in Avon, Indiana, to
Grandpa Jones' Candy & Popcorn Shoppe
. There is something very special about a local candy store in the world of mega box stores and chains galore. This was actually the first trip for both of us to this candy shoppe, which is located in the Kroger strip mall at the corner of U.S. 36 and Ind. 267, and I will be honest that upon walking through the doors I think I maybe got a little more excited than her! You see upon entering Grandpa Jones the very first thing you smell and see is their delicious homemade popcorn. They have several choices to chose from but this girl is no dummy, I headed straight to the carmel corn. Let me tell you this is a must buy. It was perfectly crisp with the sweet and salty taste! Once I got over stuffing my face with the carmel corn, me and my daughter took a stroll around the shoppe. It is perfectly decorated with bright colors and a train theme. They even have a handmade train display in the center of their store. The bright colors and displays of various kinds of candy caught my daughter's attention. The shoppe has candies from just pennies to some more finer chocolates. They also have smoothies and other frozen drinks along with their popcorn selection. Grandpa Jones is the perfect little budget outing for your young tots. I have one friend who mentioned she takes her son their once a month and gives him a dollar for the candy shoppe. He gets to go and pick whatever he would like.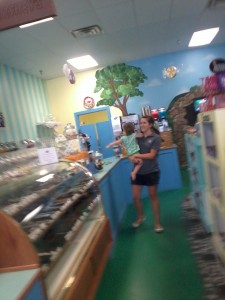 I think that sounds like a great idea for a date with one of your young kids! My girl isn't there yet but she did get to chose something. What did she choose? The biggest, brightest sucker she could find!  (Your only a kid once right?) Give Grandpa Jones' a try for the big kid in you!